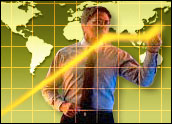 Peer-to-peer consumer lending sites are shaking up the world of Internet finance. Be it the Internet or broadband wide-area networks, growing capabilities and increasing standardization are changing the way finance organizations do business, as Part 1 of this series discusses.
The Net is also a key enabler facilitating the rising prominence of the microfinance, as well as the corporate social responsibility and ethical investing movements. It is also democratizing philanthropy by making it possible for everyday people to contribute small amounts of money to people and aspiring entrepreneurs in Third World countries.
In the wake of microfinancier Muhammad Yunus being awarded the Nobel Peace Prize for his work to establish the microfinance world's Grameen Bank, the Net is the vehicle of choice for the growing number of new organizations turning to microfinance as a means of promoting sustainable socio-economic development in developing and poverty stricken regions and countries around the world.
Growing Kiva
Perhaps the most significant thing of lasting value that Jessica and Matt Flannery brought home with them after working for a nonprofit organization doing community development work in Uganda in 2004 wasn't an overwhelming sense of poverty, despair or corruption.
Rather, it was an appreciation for the quiet dignity and perseverance of underprivileged people striving to make good in an environment where even the most basic resources are hard to come by, and public or private sector services and support are starkly in absence. It was that which led them to start Kiva.org, said public relations director Fiona Ramsey.
Bringing together microfinance, philanthropy and digital computing and networking technology, the Kiva organization is making a name for itself. Starting from scratch, a group of young, relatively inexperienced "idealists" have built a platform and a streamlined organizational structure that relies on Internet networking to connect lenders to a network of about 90 microfinance partners in some 140 developing countries around the world.
An Outsider's Perspective
Returning home with an outsider's perspective and looking to get involved in a cause has turned out to be as much of an advantage as a disadvantage for Kiva's founders and the organization as a whole.
"The crucial thing here is recognizing what you're good at and recognizing who are the experts in the field. We're really focused on acquiring the services of local experts in the field — why try to reinvent the wheel? There's a lot of wisdom out there, and in those early days we spent a lot of time recognizing our role and how to develop the means of using the Internet to connect to these experts," Ramsey told the E-Commerce Times.
While considering all the possibilities associated with building a new type of microfinance venture, they figured that the "smartest thing to do to scale-up is to work with organizations already doing this. … There are as many as 10,000 in the world," Ramsey elaborated.
"They were able to identify and put together the pieces to create a new type of organization coming from outside the traditional philanthropy/investment industry," she said.
Kiva invited microfinance industry experts and quickly moved up a steep learning curve, Ramsey said.
"We're focused on making a great, easy-to-use Web site and connecting people to the experts, the local microfinance experts," she added.
As has been seen many times, budding success is infectious. Kiva is almost inundated with requests from lenders and microfinance partners. Kiva relies on voluntary, suggested donations of 10 percent from lenders to cover its operating costs. The response has been so great that they have had to limit the amount of donations that they will accept to US$25 or $50.
"Back in the early days we underestimated the generosity of our lenders," Ramsey said. "We have always been limited not by the amount of funds we could raise; it's always been by whether we could place the funds. … We're restricted by where we can put them."
Microfinance Dollars and Cents
Limiting the size of donations is one way Kiva can keep faith with its commitment to and focus on trying to ensure the quality of the service it provides. Similarly, they receive a large volume of requests from microfinance lending partners. Each one goes through an extensive due diligence process and then enters into a partnership agreement with Kiva, Ramsey explained.
"We have organizations contacting us and requests from lenders all around the world — from Iraq, Afghanistan, Sudan," she said. "We'll pursue them…but we only wind up partnering with around 2 percent."
Kiva members are lenders, and borrowers are charged interest, which enables Kiva's local microfinance partners to cover their costs. Depending on the country, regulatory and economic situation, these can look quite high.
"The industry average is around 35 percent; our average is around 20 percent, but it really varies from organization to organization and country to country. In Mexico, there are tax considerations … others [lending partners] include training services as well as the loan which increases the interest rates," Ramsey explained.
Kiva is now at the point where it's reaching its lending limits with microfinance partners, but it has decided to stick to its guns when it comes to following what it considers sound, fundamental microfinance standards.
"Opening the floodgates wouldn't be responsible," she elaborated. "Each microfinance partner has a monthly limit. We want them to scale up and reach more people so we examine their resources and portfolio statistics and stay in really close contact with them. We try to help them staff up but do it in a really responsible way."
The IT Behind Kiva
Paypal has been a key partner for Kiva. Up until now the cost of aggregating a large volume of small transactions has been cost-prohibitive, Ramsay noted.
"Now, through Paypal we can do that," she said. "We have lenders in 90 countries the last I checked."
Paypal gives Kiva free payment processing which enables it to pass the savings on down the line.
"People want to help; people want to contribute but they want accountability. They want to make sure it's getting where people say it is going to go," she elaborated. "If somebody from Belgium wants to make a grant to someone in Kenya, they send it to us and we send the whole thing on to the borrower."
"We do our wiring in bulk; Kiva doesn't take any money from that," she said. "Paypal usually charges a 2-3 percent fee."
Investing in refining, extending and scaling up its custom-built lender-driven microfinance Web services platform is another way Kiva intends to keep its operational standards high. Grants from foundations provide the funding that enables it to do so.
Kiva relies on custom-built software developed by Matt Flannery. "The interesting part there is that the site is deceptively complex," Ramsey said. "The goal is to make it simple and easy to use, but there's a lot of complexity behind it."
"Another element where our site is quite different — every borrowing placement is pre-approved," she added. "Loans are getting funded within 24 hours."
LAMP Light
Kiva has four engineers taking care of its IT environment, and it's hiring a fifth. They are using a standard LAMP (Linux-Apache-MySQL-PHP) core Web stack, according to Kiva software engineer Jeremy Frazao.
"We're moving towards a multiple server architecture," Frazao told the E-Commerce Times. "But we have to work out a couple of things."
So-called "business operating wizards" are used by local microfinance partners to set up and administer borrower profiles and accounts. Workflow is routed through an exception-based administrative and reporting system.
MediaTemple hosts Kiva's Web platform and runs its e-mail server, which includes dealing with spam and malware detection and prevention.
"Our philosophy is that whatever we can legitimately outsource, we usually try to," Frazao said. "Outside of our core software."
Bridging Divides
So what exactly has led to Kiva's success? From the lenders' side, Kiva's ability to harness the power of the Internet to democratize philanthropy is one factor. The appeal is that you too can "be a mini-Bill Gates, Google or Oprah Winfrey, get involved and build a philanthropy-investment portfolio," Ramsey maintained.
"What we're hearing from our lenders is that it gives them an opportunity to make a difference, to see the person, follow what they're doing with the funds, how it's helping them … being able to get to know the borrowers, see their faces," she added.
The growing multimedia capabilities of the Web enabling people to share experiences and enrich their lives are also contributing, according to Ramsey.
"Through this connection — the pictures, the business descriptions posted by our microfinance partners –it's giving people in the developed world the experience of giving directly to people in the developing world, and the poor to relate to people in the developed world," she said. "We're bridging the gap between developed and developing world societies and cultures."
What's next for Kiva? One thing on the slate is expanding its services to include loans and offering Kiva members the option of lending and earning an interest rate return though with local microfinance partners providing the loan contracts — something it hopes to do in the next year.
"Kiva is regulated only as a 501c3 tax-exempt nonprofit, and so we do not allow our lenders to receive interest. In the future, when we offer interest rates, we will be looking to be regulated as a person-to-person lending Web site, not a bank or a securities broker/dealer. This is similar to the regulatory treatment of Prosper.com, Zopa.com and Myc4.com," Kiva cofounder Matt Flannery explained.