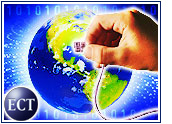 Although it will be some time before broadband is available to every house and company in the United States, the adoption rate of high-speed Internet access is healthy and growing steadily.
However, significant hurdles have kept adoption lower than it could be. Most rural areas and some suburban areas cannot get broadband, making the service predominantly a city-based one. In fact, the United States is outpaced by several other countries in the broadband arena.
Still, despite a tough economy and cries of sluggish adoption by broadband advocates, more and more U.S. homes will become wired for speed in coming years. What lies ahead for high-speed access in this nation?
Big Numbers
At the end of 2002, there were more than 16.4 million residential broadband subscribers in the United States, according to Yankee Group analyst Michael Goodman. He told the E-Commerce Times that this number will swell rapidly. By 2007, he predicted, there will be 48 million U.S. subscribers.
"We've seen press reports that bemoan the growth of broadband," he said. "But I think those are misstatements. If you compare this to the growth of other technology, like DVD players, you'll see that it's actually grown quite quickly."
Jed Kolko, a Forrester Research analyst, predicts similar numbers. Next year, he said, of the 106.6 million U.S. households in the country, 21.7 million will have broadband.
By 2008, Kolko told the E-Commerce Times, there will be an estimated 112.4 million households, and of those, 62.4 million will have broadband.
"Basically," he said, "from 2002 to 2008, broadband penetration will grow fourfold."
In addition, the broadband market will not have to wait five years to see a sudden boost in adoption; instead, it seems likely that the pace of growth will be slow and steady. Kolko noted that 29 percent of households that now have dial-up Internet access plan to upgrade to broadband in the next two years.
Serving It Up
In terms of provider type, the broadband domain is now ruled by the cable industry, and that seems unlikely to change.
Goodman said that as of the end of 2002, U.S. cable companies had slightly more than 10.5 million high-speed Internet subscribers in total, whereas DSL providers had only 5 million. He predicted this proportional gap will remain roughly the same in future years.
"This is partially explained by aggressive pricing and more attractive bundles from cable," he said. "But it's also a function of how consumers view broadband — whether they see it for entertainment or communication."
Since many consumers seem to associate broadband with entertainment, he explained, they tend to choose cable. Those who perceive high-speed access as a business tool or a way to communicate with others are more likely to pick DSL, since the phone is viewed in a similar way.
Package Delivery
Additionally, Gartner analyst Lydia Leong noted that when it comes to major players, people usually think locally rather than nationally.
"It's usually the local cable company or the local phone company, because they're the ones that are offering bundles," she told the E-Commerce Times. "By putting packages together like that, it allows them to grow the number of subscribers pretty steadily."
Laura Tigges, a spokesperson for Sprint, told the E-Commerce Times that her company sells packages that include a free modem, a rebate and free customer service.
The company also is targeting new demographic groups by providing an installation CD for Spanish speakers. Other marketing initiatives focus on college students, cable users, older adults and Generation X.
Distant Cousins
Other broadband distribution methods like satellite, fiber to the user and wireless lag far behind the top two methods and are not expected to catch up soon.
"All other providers that aren't cable and DSL constitute roughly 300,000 subscribers for 2002, and that's combined," Goodman said. "Even out to 2007, we still see these technologies as being on the fringe. Combined in 2007, they should be still well under 2 million."
Leong added: "Satellite and wireless are still relatively rare and are considered less attractive options for a lot of consumers. Satellite in particular doesn't have much uptake."
Worldwide Broadband
In general, the U.S. is on par with other Westernized countries when it comes to broadband adoption rates, speeds and pricing. However, it lags behind Asian countries in terms of reach.
Goodman noted that about 80 to 90 percent of South Korean households that have PCs also have broadband. "But if you're talking about the number of subscribers, South Korea is far smaller than the U.S. So, basically, it depends on how you look at it."
Asian countries seem to be better suited for high penetration rates, Leong noted, because in countries like South Korea, the population is concentrated in major cities.
The Distance Factor
In the United States, in contrast, households are spread across suburban and rural areas, so distance is a major factor in whether or not a house can be wired for high-speed Internet access. If the population were centered in metropolitan areas, broadbandreach in this country might be similar to that in South Korea.
In general, however, advocates of broadband-for-everybody should be far from disgruntled in coming years.
"Broadband is doing very well in the U.S.," Leong said. "It's very healthy, and it will stay healthy."