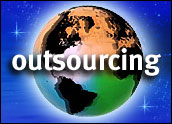 Providing a shot in the arm to the tech sector amid mounting economic worries, Petroleum giant Royal Dutch Shell said Monday it has doled out some US$4 billion worth of contracts to outsource the management of its core information technology infrastructure.
Shell signed the master service agreements, or MSAs, as part of a push to improve its business operations performance as a way of maximizing profitability and efficiency, it said.
Even though it will spend close to $4 billion over the next five years on the contracts, Shell believes it will realize cost savings over that time frame compared to managing information technology services directly.
'Essential IT Capability'
The biggest winner is communications giant AT&T, which gained a $1.6 billion contract to manage voice communications and mobility. T-Systems — a subsidiary of Germany's Deutsche Telecom — won a $1 billion work order to provide hosting and storage services. EDS, meanwhile, grabbed a $1 billion contract to manage end-user computing across Shell's businesses.
The deals represent "a major strategic choice for Shell," and will give the company "greater ability to respond to the growing demands of our businesses," said Shell CIO Alan Matula.
The agreements free up Shell's own IT department to focus on competitive initiatives, while the third parties provide "essential IT capability," he added.
Billions Served
AT&T's part of the deal is just the latest in a series of recent $1 billion contracts it has landed during the past year with the likes of GM, Starbucks and the U.S. government, the company said. AT&T also won a $5 billion agreement to provide communications services to IBM.
The contract with the Netherlands-based Shell is the largest outsourcing contract AT&T said it has ever landed outside the U.S. The company will provide wide area and local area networks, voice services including VoIP (voice over Internet protocol), managed security solutions and mobility services. It will also keep some 1,500 Shell locations connected to one another and manage 600 vendor contracts.
EDS will take over the task of keeping the computers of 150,000 Shell employees up and running, providing desktop support, help desk services, data backup, disaster recovery, mobile security and messaging services. EDS will also be managing the overall IT infrastructure, working with other providers as necessary and taking over 1,500 IT workers, including Shell employees and contractors.
EDS Vice President Bill Thomas noted that with roots in Texas, the company has a long history of providing IT services to the oil and gas industry. EDS will work with partners such as Microsoft, SAP, Xerox, Sun Microsystems and EMC to deliver the services to Shell.
EDS enjoyed a surge of growth when the first wave of IT outsourcing took place several years ago and more recently has been able to accelerate growth once again, noted Gartner analyst Martin Reynolds.
The Shell deal shows that EDS and the other firms are doing a better job of highlighting the benefits of outsourcing other than the direct financial savings, he told the E-Commerce Times.
"Businesses want outsourcing partners who can add value and drive innovation and make them more competitive," Reynolds said. "Just cutting down on costs isn't enough any more."
Shrinking Pool
T-Systems will operate a number of Shell's existing data centers around the world, including three in the Netherlands, one in Malaysia and one in the U.S. It will also host Shell's SAP applications and operate and maintain more than 7,400 application servers. T-Systems will take over some 900 Shell data center and applications management employees.
The deals are major coups for each company, in part because the number of new deals of more than $1 billion available to be landed has shrunk dramatically in recent years, said IT industry analyst Richard Holway.
"Contracts of this size are becoming rarer and rarer," Holway told the E-Commerce Times.
Given Shell's global footprint, the EDS part of the deal in particular require a worldwide reach, something that relatively few major providers can bring to the table. "This deal is a feather in the cap for those companies," he added.