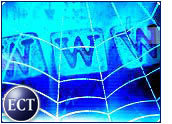 While there are supposed to be no boundaries dividing the World Wide Web into parts, the reality is that business-to-consumer (B2C) e-commerce usually takes place within a single country's borders, rather than from one corner of the world to the other.
Invisible barriers such as language, currency and taxation help keep the bulk of e-tail activity from flowing across international borders, analysts and industry insiders say.
There are exceptions, of course. For example, major e-tailers such as Amazon.com (Nasdaq: AMZN) and eBay (Nasdaq: EBAY) said they see significant buying on their U.S.-based sites from overseas customers.
However, both e-tail giants have established significant overseas presence by recognizing the multiple challenges of shipping long distances, translating Web pages and adjusting to fluctuating exchange rates.
"We believe it is more convenient for people to trade in their native language, using their native currency and trading items that may be of local interest," eBay spokesman Kevin Pursglove told the E-Commerce Times.
Where the Goods Are
Still, Pursglove said buyers and sellers do cross borders to conduct business online.
"We do know that users on the various international sites are trading with one another and that level of activity is increasing," he said. "Should an eBay user registered on eBay Germany or eBay Italy wish to visit other international sites, they may do so with a click of the mouse."
According to eBay, its international sites made up approximately 14 percent of the company's total revenue in the second quarter of 2001.
Consuming U.S. Culture
The numbers are even larger for Amazon. Company executives recently said that nearly one-quarter of its 32 million customers live outside the U.S., and that 19 percent of Amazon's sales now take place outside the country.
In fact, as the Seattle, Washington e-tailer opened its Japanese site last November, it said that 200,000 Japanese customers were already ordering $34 million a year worth of products from Amazon's U.S. site.
Reciprocity Lacking
In Europe — where national borders have been blurred by the formalization of the European Union — consumer country-hopping via the Web is relatively common.
However, while consumers from around the world are likely to buy from U.S. sites, the opposite is not as true. U.S. residents are doing much less shopping on overseas sites.
"There might be exceptions, but for the most part, U.S. buyers are shopping on sites here in the States," Forrester Research analyst James Crawford told the E-Commerce Times. "Buying from overseas poses too many complications for it to be appealing to the average consumer."
Crossing Borders
Forrester analyst Hellen Omwando noted in a recent report that efforts to set international standards for e-commerce have yet to have a significant impact on the global landscape.
Omwando said a self-regulation movement scheduled to launch in 2002 might help other e-tailers achieve the kind of overseas traffic that Amazon and eBay now enjoy. One key element will be the creation of a central location where complaints can be lodged.
"The opportunity for consumers to lodge complaints will ease their concerns about making purchases from foreign sites," she wrote.