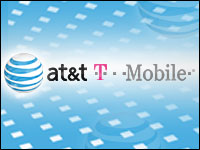 The U.S. Department of Justice dealt a surprising blow to the proposed US$39 billion merger between wireless providers AT&T and T-Mobile Wednesday when it filed a lawsuit to block AT&T from acquiring the smaller company, claiming the deal would violate antitrust regulations.
The proposed merger, announced five months ago, would combine the nation's second and fourth largest wireless providers — and, according to the DoJ, lead to higher prices and poorer services due to a lack of competition.
It was a sentiment echoed by multiple consumer advocacy groups and other wireless providers since the deal had been announced. Sprint, the nation's third largest carrier, has been vocal in its opposition to the deal, asserting it would kill competition in the wireless market.
Some current T-Mobile customers lit up message boards and social media outlets with relief they wouldn't have to become AT&T customers, and consumer advocacy groups praised the decision as a win for the average consumer looking for fast, reliable and affordable service.
AT&T, however, was "surprised and disappointed by [Wednesday's] action, particularly since we have met repeatedly with the Department of Justice and there was no indication from the DOJ that this action was being contemplated," Wayne Watts, AT&T senior executive vice president and general counsel, told the E-Commerce Times.
The company reiterated its reasons for the merger, which includes increasing spectrum to improve wireless service, allowing the company to expand high-speed 4G LTE technology to 97 percent of the U.S., and creating jobs.
"We plan to ask for an expedited hearing so the enormous benefits of this merger can be fully reviewed. The DoJ has the burden of proving alleged anti-competitive effects, and we intend to vigorously contest this matter in court," said Watts.
Does It Need It?
The question whether or not the deal is necessary for AT&T to expand its service has been debated. The company is already a leader in service and sales, and a leaked letter from earlier in the summer suggested it might not need the merger to expand 4G LTE service.
However, T-Mobile, along with its parent company Deutsche Telekom, face different circumstances.
Between AT&T and Deutsche Telekom, "I'd say that T-Mobile's parent Deutsche Telekom needs the deal more. They've been intending to exit the U.S. market for quite a while, and if the deal eventually falls though it means that DT will have wasted a lot of precious time," Aapo Markkanen, senior analyst in consumer mobility at ABI Research, told the E-Commerce Times.
In fact, before the deal was announced with AT&T, Sprint had been in talks with T-Mobile about an acquisition, albeit on a much lesser scale.
"Had they not taken the AT&T route to exit, they would have probably agreed to something less lucrative — but in the regulatory sense less risky — with Sprint. Moreover, it's unlikely that T-Mobile can ever again command a valuation as high as the one AT&T put on it," said Markkanen.
Since a deal with the smaller Sprint would be less lucrative and lead to less control of the nation's telecom markets, it probably wouldn't receive the same volume of opposition that the AT&T/T-Mobile deal has faced. As an incentive to keep Sprint away from T-Mobile, AT&T even offered DT a $3 billion payout if the deal doesn't go through, a sum it will have to hand over if the DoJ ultimately gets its way.
"I'd guess the breakup fee was necessary to make DT choose AT&T over Sprint," said Markkanen.
DoJ Ruling Final?
AT&T made it clear it will fight the suit, and there's still a possibility some sort of compromise could be made between the company and the Department of Justice, allowing AT&T to buy T-Mobile under a set of tight regulations and restrictions.
However, certain circumstances surrounding the DoJ's lawsuit suggest the department isn't in the mood to compromise, according to Peter Carstensen, a professor of law and the University of Wisconsin in Madison.
"There is some real potential for some kind of a compromise settlement. What argues against is that the DoJ was not under any particular pressure to decide [Wednesday] that it would sue," he told the E-Commerce Times.
"Hence, this looks more like there was a deliberate decision to reject the merger. This is reinforced by the fact that the deputy attorney general participated in the press conference, which suggests that this decision was approved at the highest levels — my guess is that the White House agreed," he said.
Given the nature of the settlement and industry, T-Mobile probably won't go forward in pursuing the deal with Sprint, but looking to acquire smaller networks wouldn't attract the same opposition to a large-scale merger like the one with AT&T.
"But certainly T-Mobile could have acquired some other smaller companies that expanded its network and customer base without any significant risk of antitrust problems," said Carstenesen.