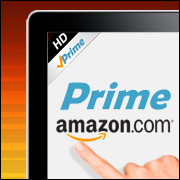 Amazon is gearing up to launch a streaming music service this summer, taking on competitors like Pandora and Spotify, according to a report from Buzzfeed.
The streaming service would be part of Amazon's US$99 per year Prime service, which offers subscribers free two-day shipping on many items, video streaming and an e-book lending library.
The digital music catalog would be limited to songs and albums that are at least six months old, according to the report, plucked from albums the company is able to license at a discount. All the music would be available to stream on demand.
The service is expected to launch this June or July, and will be accessible from a variety of devices.
Stepping Into a Crowded Ring
Amazon would be entering an already crowded streaming music space. Services like Pandora, Spotify, Rdio and Songza are popular among mobile users. Meanwhile, Apple just bought Beats Music for more than $3 billion, bolstering its digital entertainment offerings.
One of the main differences between Amazon and its competitors could be the older content selection on Amazon, said James Cridland, a radio consultant and futurologist.
"The idea to limit access to the latest catalog is interesting, since it's this catalog that is among the most popular streamed through services like Spotify," he told the E-Commerce Times.
Expanding the Ecosystem
Amazon doesn't necessarily need to dazzle users with new music, said Mark Mulligan, media analyst at MIDiA Consulting. Unlike music-focused startups like Spotify or Rdio, Amazon is an established brand with upwards of 20 million existing Prime subscribers.
Its video streaming service launched with a selection of movies and shows that paled in comparison to competitors like Netflix and Hulu, but the company has continued to tweak and grow the service.
The most important step now is just establishing a streaming music presence, said Mulligan.
"Amazon needs to be in the music space because music is the first rung on the purchase ladder," he told the E-Commerce Times. "People start off buying low-consideration items like music and video before working their way up. That used to be CDs and downloads; now streaming is likely to play that role, too."
In addition, with the rising costs of licensing and the growing importance of digital content, it's getting more difficult for services such as Spotify to offer the latest and greatest music, Cridland added.
"Perhaps this is a tacit admission by Amazon that streaming newer songs or albums will be increasingly withheld by record companies," he pointed out. "The absence of new may not be noticed by many Amazon Prime customers, who will perhaps be less interested in being on the musical cutting edge."
Pay to Be Loyal
The company has more to offer consumers than access to tunes, including the infrastructure to provide personalized recommendations and a trusted platform. Building the service could be a smart offensive and defensive move, said Cridland.
"Amazon Prime is a clever service — essentially locking in customers to the Amazon ecosystem and charging them for the privilege," he noted. "The savvy customer may realize that getting the best value out of Prime means ditching Netflix and Spotify and never buying from Barnes & Noble. It may, therefore, have quite an effect on other streaming services."