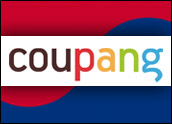 Sequoia Capital recently led a US$100 million round of funding for South Korean retailer Coupang, suggesting that the rapidly growing Korean e-commerce market is the hot new scene for investors looking to capitalize on a country full of mobile shoppers.
Founded and run by the Korean-born, Harvard-educated Bon Kim, the site has grown to become Korea's leading online retailer. The recent round of funding gave it a $1 billion valuation.
Kim launched the store when he realized there was a market itch in Korea that he could scratch — his native country was full of smartphone users that loved to shop, but lacked a leading online platform for doing so.
After securing early funding from investors including Greenoaks Capital Management and Rose Park Advisors' Disruptive Innovation Fund, Kim launched Coupang in 2010. The company originally was modeled like a daily deal site such as Groupon — the "cou" in Coupang comes from the word "coupon" — but since has branched out to include merchandise and is now more of a marketplace like Amazon.
It still offers deals on things like travel packages, tickets to events or local attractions, but it also serves as a one-stop shop for goods including fresh food, consumer electronics, fashion and beauty merchandise, home goods and toys. You name it, you can probably buy it on Coupang, and you can often have it delivered that same day.
Keys to Success
By 2013, during its third full year in operation, Coupang had brought in more than US$1 billion in sales, a benchmark it hit quicker than any other Korean e-tailer. The latest round of funding will help as the company pursues further growth in what Coupang CFO Richard Song described as a $45 billion e-commerce market.
"All the strategies deployed by Coupang since its inception will drive innovation in the Korean e-commerce market," e-commerce consultant Rob Abdul told the E-Commerce Times.
Curation is one of those strategies. Coupang offers personalized recommendations for users so they won't be overwhelmed by the seemingly endless offerings on the site.
Delivery is another selling point for Coupang. With its own delivery team, and because the dense urban settings in most of the country make getting from point A to point B relatively easy, Coupang is able to offer free two-day delivery on almost all items, and often can handle speedy same-day delivery.
Mobile strength has been critical to the site's success. Super-fast Internet speeds and a site optimized for mobile consumers have made it easy for tech-savvy Koreans to turn to their smartphones to do their shopping. Since August of last year, mobile transactions accounted for more than 70 percent of the company's sales.
All in all, Coupang has figured out a winning business model in its market, said Yujong Hwang, Ph.D., associate professor at the Driehaus College of Business at DePaul University.
"Coupang has successfully positioned their strategy in the e-commerce market with their focus on mobile commerce and customer service," he told the E-Commerce Times. "They have a user-friendly interface and one of the biggest supply chains in the Korean market. It is defnitely perceived as one of the top three e-commerce companies in the Korean market at this time."
Making Foreign Dollars Count
Coupang's success could make it seem as if the Korean e-commerce market is ripe with opportunity, said Anat Zeelim-Hovav, professor at the Korea University Business School.
"For one, the infrastructure here in Korea is much more advanced and affordable than it is in the U.S.," he told the E-Commerce Times. "Second, people use public transportation, so they have plenty of down time which they can use for mobile commerce. Third, delivery here is cheap and fast."
That doesn't mean foreign entrepreneurs should think they can achieve easy success in Korea, said Zeelim-Hovav.
"There are a myriad of obstacles for foreigners to penetrate the Korean market," he said, citing challenges including cultural differences in the corporate world.
Instead of eBay trying to tough it out in Korea, the company spent $1.2 billion buying Gmarket in 2009, which was at the time the leading online retailer in the country. Earlier this year, Groupon announced a $260 acquisition of Coupang competitor Ticket Monster and quietly withdrew from its core business there.
Going forward, the market will be driven by acquisitions or major investments — not by attempts on the part of foreign companies to mold to the Korean landscape, said Hwang.
"The Korean e-commerce market is growing very fast and uniquely," he noted. "It is called the world's incubator for new technology. That makes it difficult to get into the market by foreign competitors. Sequoia Capital's $100 million is a good example of how the market perceives the future value of the e-commerce market in Korea. I expect it will be more for mergers and acquisitions, such as a company buying Ticket Monster or JobKorea in the future, than trying to make it in Korea."