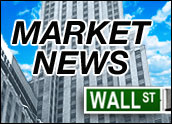 Some spots of weakness in the first few days of the holiday shopping season helped pressure stocks as trading resumed today, though shares bounced off their session lows to finish mixed.
The Dow felt the brunt of retail weakness as a disappointing showing by Wal-Mart weighed heavily on the blue chip index, dragging it lower by as much as 90 points during the trading session. At the close, the Dow had gained back some of the lost ground, but was still off 46.33 points, or 0.44 percent, to 10,475.90.
The broader S&P 500 index was also lower, losing 4.08 points, or 0.34 percent, to finish at 1,178.57.
The Nasdaq managed to post gains, climbing 4.90 points, or 0.23 percent, to 2,106.87, getting a boost from Apple, which was the subject of another analyst upgrade, and IBM, whose shares rose after reports that it would begin producing chips and other products for home-entertainment devices.
Other Factors
While some retail chains reported a strong weekend of sales, others, including number one discounter Wal-Mart, said the holiday week ended with a whimper. Wal-Mart also lowered its sales forecast for all of November, causing its stock to drop nearly 4 percent.
Consumer sentiment wasn't the only factor investors had to contend with, as the continued weakness of the U.S. dollar against overseas currency remains a concern for many market and economy watchers. The dollar saw little movement against the euro and yen today.
Economic Data
Meanwhile, economy watchers will get their share of hard data this week, with the Labor Department capping things off Friday with November unemployment data. Also due out this week are the Institute of Supply Management's data on factory output and the Conference Board's read on consumer confidence.
And at least today, oil seemed poise to move back into the picture and again become more of a factor, as New York Mercantile Exchange-traded crude futures rose 32 cents to close at US$49.76. Crude futures have closed below $50 every session since November 3.