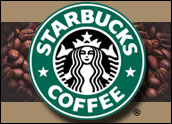 AT&T will deliver WiFi access in thousands of Starbucks locations across the country as the coffee chain parts ways with former access partner T-Mobile.
AT&T will offer both free and paid WiFi connectivity at more than 7,000 company-run Starbucks locations, the companies said Monday. The new deal ends Starbucks' six-year partnership with T-Mobile, which did not offer the free WiFi option.
AT&T's new access points will bring its total in the U.S. to 17,000 — the largest such network in the country, it claims — and 70,000 around the world.
Staying Connected
Customers with Starbucks purchase cards will be able to use the WiFi service for free for up to two hours a day and then purchase unlimited access to all AT&T hotspots for US$19.99 per month or $3.99 for two-hour blocks.
AT&T's 12 million broadband Internet subscribers will have unlimited free WiFi access, and it will make access available to its wireless subscribers as well in the future. AT&T will also give free access accounts to Starbucks' 100,000 U.S. employees.
"People want to stay connected to their world 24/7, and WiFi hotspots, broadband and wireless make that mobility possible," said Rick Welday, AT&T's chief marketing officer for consumer business.
Double Shot
The changeover from AT&T to T-Mobile will begin this spring, with the entire store-owned chain network to be converted by the end of year. AT&T is also providing Starbucks stores with networking technology, including additional bandwidth and redundancy.
The deal could be a boost for both companies, by providing would-be AT&T customers with an additional incentive to sign up and helping to drive more traffic into Starbucks stores.
Those stores have been struggling to maintain historic growth, and CEO Howard Schultz is in the midst of a turnaround plan.
The partnership also "drives the bundle" for AT&T, said telecom industry analyst Jeff Kagan.
Offering free access in the stores to broadband customers "is a brilliant move on AT&T's part" as it competes with cable companies and others for the right to provide customers an ever-growing bundle of services, Kagan told the E-Commerce Times.
"This deal with Starbucks should help AT&T sell new customers and hang onto existing customers," he added. "Starbucks wins because it can offer customers a service for free that their customers had to pay for before this change."
Smooth Transfer?
Customers who have existing T-Mobile accounts will be able to use their balances on the new network. The switch will leave T-Mobile with fewer than 2,000 hotspots nationwide, many of them in Borders and FedEx Kinko's stores.
Starbucks' decision to partner with AT&T was not driven by any problems with T-Mobile's service. Interestingly, the deal brings together two Apple partners — AT&T is the exclusive iPhone carrier and Starbucks and Apple have a partnership to enable visitors to the company's stores to buy music from the iTunes Music Store with a single click.
The WiFi market has grown in fits and starts, with some players moving away from providing municipal-wide service — EarthLink, for example, recently said it would put its city-wide WiFi business division up for sale. However, AT&T seems to realize that having a robust network of hotspots is the key to driving subscriptions, whether it's to its WiFi service or its other products, JupiterResearch analyst Julie Ask told the E-Commerce Times.
"Free trials help convert users into paying subscribers," Ask said. "It provides reach and coverage at a time when the market is still maturing, and it seems to make economic sense for both parties."
Meanwhile, more consumers are walking into Starbucks stores with WiFi-equipped products, from laptops to hybrid phones capable of switching between traditional cell networks and WiFi and WiFi enabled handheld devices such as the Microsoft Zune and the Apple iPod touch, Ask noted.