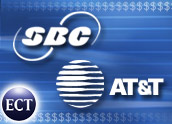 SBC Communications said today it will take over its former parent company, AT&T, in a stock-and-cash deal worth around US$16 billion, a blockbuster takeover that marks just the latest major shift in a rapidly evolving industry.
Over the weekend, the boards of both companies approved a deal in which AT&T shareholders will receive stock worth $18.41 per share and a one-time dividend of $1.30 for each share they hold. Around $15 billion of the total deal value will be paid out in stock.
Regulatory approval will be needed and is widely expected to come with little or no qualifications.
Historic Merger
The deal ends AT&T's 120-year run as an independent company, one that began in the earliest days after the invention of the telephone and took a dramatic turn when regulators split it up into regional phone companies and a stand-alone long-distance company in 1984. Now, 20 years later, it sees itself acquired by one of the "Baby Bell" companies created by that breakup.
"What a story. This is historic," Telecom analyst Jeff Kagan told the E-Commerce Times. "AT&T is not the same company it was ten years ago but it's still historic."
The two companies said the combination leverages their respective strengths: SBC's role as a regional telecom provider and its menu of high-speed Internet services for consumers and AT&T's business class services.
It also creates a stronger company financially and technologically, one that is in a position to capitalize on the shift toward Internet Protocol-based delivery of servers, SBC CEO Edward E. Whitacre Jr. said.
"The communications industry is undergoing a profound transformation," Whitacre said. "To manage this evolution, customers need a partner with the resources to provide new service platforms and product sets, while maintaining world-class reliability and security. This merger creates that company."
Giving Them the Business
The deal immediately thrusts SBC ahead of other regional telecom carriers in terms of business services. It might also put long-distance carrier MCI, which also has a strong foothold in the enterprise arena, on the sales block, Kagan said. MCI could "be acquired quickly by one of the other Bells,:Verizon or Bellsouth or Qwest."
In addition to customer relationships with "virtually all of the Fortune 1000," as SBC put it, the deal gives SBC access to more than two dozen data centers in the U.S. and 13 in foreign countries.
The deal also makes sense for AT&T, Kagan said. "Yesterday it was the biggest long distance company, but today it is transforming itself into a business communications services company," he added. "This is much different than the company most people think of when they think of AT&T."
In fact, much of what AT&T built itself into as a response to the changing telecom market — buying up wireless assets and building an extensive cable TV network — was undone in spinoffs and sales in recent years as the company focused on its core business customers.
Whitacre said that over time, the merged company will be able to realize up to $15 billion worth of cost synergies, including savings realized through the consolidation of facilities and operations and enhanced revenues as it bundles more services to more customers. AT&T will get three seats on the board of the combined company, which will be run by Whitcare as CEO.
Size Matters
In dollar value, the deal pales in comparison to recent wireless sector deals. Cingular, which is part-owned by SBC, bought AT&T Wireless for $41 billion, while Nextel and Sprint merged in a deal worth $35 billion.
Consolidation is not likely to slow down, given the regulatory environment under the Bush administration that favors a hands-off approach and because the ability to offer more services is a critical differentiator in the telecom space.
Research firms have long said conditions have been ripe for consolidation across the telecom sector, and many believe recent deals might only be the start. In addition to further consolidation in the U.S., the same set of circumstances are in place in Europe, Japan and elsewhere.
Gartner analyst Jason Chapman told the E-Commerce Times that although it seems there are relatively few large players in the telecom space, the industry is actually still primed for more consolidation, with regional carriers likely to merge and long-distance companies used as an add-on to wireless and regional phone services.
"The name of the game is going to be services, and if you're bigger, you can better afford to take on the investment necessary to make them available," Chapman said.
Convincing the Analysts
Some analysts might need convincing of those benefits, however, as several already expressed surprise at the price tag for the SBC-AT&T deal. SBC might have sensed a need to lay out its case for the merger, holding a lengthy conference call with analysts on the deal today and announcing that a live Webcast would be held for analysts and investors tomorrow.
Meanwhile, SBC and AT&T did not specify what its new name would be after the merger, but said the AT&T moniker would be kept intact in some way. "We value the heritage and strength of the AT&T brand, which is one of the most widely recognized and respected names throughout the world, and it will certainly be a part of the new company's future."