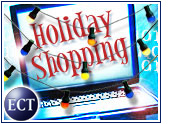 In what could be the most optimistic in a flood of e-holiday sales estimates,a study released Tuesday by Goldman Sachs and PC Data Online shows thate-tailers managed to rack up almost US$10 billion during the just-concluded season.
The report said that from the first week in November through December 24th, holiday shoppers spent $9.8 billion online, more than double the $4.7 billion spent during the comparable period in 1999.
"Despite disappointing reports from some Internet online retailers, online spending growth was healthy during the holidays," PC Data Online Internet analyst Cameron Meierhoefer said.
Additionally, 94 percent of consumers in the Goldman Sachs/PC Data Online study said that the online shopping experience was at least as good as it was in 1999.
Expected Decline
As expected, holiday shoppers turned away from the Web during the week before Christmas. Online buying dropped to $1.04 billion, 33 percent less than the season's peak of $1.6 billion a week earlier.
"Cautious consumers started shopping earlier to ensure that gifts were delivered on time, while more experienced retailers encouraged early shopping so they could better manage the load," Meierhoefer said.
A decline in e-shopping activity the week before Christmas was also noted by the Nielsen//NetRatings Holiday E-Commerce Index. That index, which measures home and work shopping trips to e-commerce sites, rose 78 percent during its peak this season, but declined 31 percent during the week ended December 24th as shoppers moved their purchases offline.
Turning On Electronics
According to Goldman Sachs and PC Data Online, consumers spent the most money in the final week of the holiday season on electronics purchases: $118.8 million. Computer hardware was next at $116.8 million, followed by travel at $109.5 million.
By comparison, during the previous week studied by Goldman Sachs and PC Data Online, consumers spent the most on computer hardware at $236.7 million, followed by apparel at $227.2 million and travel at $197.5 million.
Veterans Rule
Leading the e-tailing charge, according to Goldman Sachs and PC Data, were established e-tailers and veteran brick-and-mortar stores that are embracing e-commerce.
"While it appears that online holiday sales this year will be solid and within our estimated range, veteran e-commerce companies should be the primary beneficiaries, as they continue to garner market share from smaller, less-established companies," Goldman Sachs Internet analyst Anthony Noto said.
Added Meierhoefer: "While many Internet retailers enjoyed a strong holiday season, this may have come at the expense of other pure-play e-tailers who needed to exceed expectations this year."