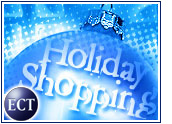 Traffic to retail Web sites ebbed in the final week of the holiday shoppingseason, according to statistics compiled by Media Metrix, providing furtherevidence that online shoppers completed their shopping early this year.
E-tail sites saw 31.8 million unique visitors during the week ended December24th, down 10.9 percent from the season's peak of 35.6 million seen in theweek ended December 3rd, but up 28.4 percent when compared to the same week in 1999, Media Metrix said.
"The drop in visitors to retail sites during the final days of the shoppingseason comes as no surprise in light of last year's pattern as well as thisseason's early peak in retail traffic," said Media Metrix measurementanalyst Anne Rickert.
Media Metrix said that last year traffic hit its zenith during the thirdshopping week after Thanksgiving, signifying that shoppers were morecautious about making late holiday purchases online in 2000 than in 1999.
The weekly report echoes others that have shown e-tail traffic trailing offafter a strong start.
Last-Minute Gifts
Sites that did see strong business last week were those selling last-minutegift items and online cards, Media Metrix said.
Media Metrix said that the flowers, gifts and greetings category averaged1.8 million daily unique visitors during the week before Christmas, a 45percent increase over the season's peak week.
Flooz.com, AmericanGreetings.com, Egreetings.com and Hallmark.com were among sites withthe biggest increases in traffic, the firm said.
E-tail giant Amazon.com and rewards site MyPoints.com remained the top twosites, with 1.3 million and 1.2 million average daily visitors during theweek, respectively. AmericanGreetings.com claimed third place, moving up four notches from the previous week.
eBay's Half.com took the No. 4 spot, followed byWebstakes.com, Egreetings.com, Bizrate.com and CDNow.com.
Book and computer Web sites were the biggestcategory winners, with 2.0 million and 1.9 million average daily uniquevisitors during the week, Media Metrix said.
Up, Up and Away
Overall, online shoppers spent twice as much this year as last, according to a survey released Wednesday by Goldman Sachs and PC Data Online.
That report, like others, found that holiday shoppers started early in orderto avoid the delivery delays and product shortages seen last year at manye-tailers.
Nielsen//NetRatings also found that holiday Web traffic peaked early, cresting in the week ended December 10th, withthe number of e-tail visitors dropping off in the following week.
NetRatings analyst Sean Kaldor said e-tailers' assurances of on-timedelivery apparently failed to lure customers later in the season. Manysites, however, offered discounts and free shipping as incentives forcustomers to shop early.
Media Metrix, which measures traffic and other statistics on the Internet,is a unit of Jupiter Media Metrix, a New York-based research firm.