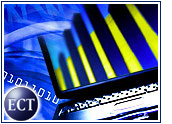 Twenty-two percent of Americans who bought gifts on the Internet in 1999 decided against buying online in 2000, according to a survey released Sunday by the Pew Internet & American Life Project.
The survey, which appears to run contrary to more bullish assessments of thejust-concluded year, also suggests that the 2000 holiday shopping season only enticed 6 percent of Internet users to test the e-commerce waters for the first time.
This tilt in spending habits occurred despite the fact that the Web still played an important part in the holiday plans of Americans. Fifty-three percent of U.S. Internet users logged on to send e-mails to friends or family members to discuss holiday plans, and 33 percent sent e-greetings to loved ones.
"During the holidays, online Americans were more inclined to use the Internet for social purposes than commercial purposes," said Lee Rainie, director of the Pew Internet & American Life Project.
The survey results were based on telephone interviews conducted by Princeton Survey Research Associates from November 22nd to December 21st of 3,493 American adults, 2,038 of whom are Internet users.
Browsing, Not Buying
The survey found that 45 percent of online Americans used the Internet to look for holiday gifts and 32 percent logged on to compare prices, but only 24 percent actually purchased their gifts online.
Notably, another 24 percent of Internet users reported beginning a transaction but then stopping before completing it.
Among those who did use the Web for holiday gift buying, 21 percent said they did "most" or "all" of their gift buying online. Twenty-eight percent said they bought "some" of their gifts online and 52 percent of online shoppers said they purchased "only a few" gifts online.
Seeing is Believing
Eighty-five percent of non-shoppers in the survey said that they chose not to buy gifts online because they like to see the merchandise in stores before buying, and 79 percent avoided e-tailers because they do not like to send credit card and other personal information online.
Fifty-two percent of non-shoppers think they can get better prices in stores or catalogs, and 41 percent said that some Web sites made online shopping confusing.
Another major concern for 45 percent of the non-shoppers was the belief that gifts ordered online would not arrive in time for the holidays, despite the fact that only 19 percent of Internet users who bought in previous years said they had problems with gifts not arriving on time. Most concerned about the on-time arrival of holiday packages were African-Americans, Hispanics and those in households earning less than US$30,000.
Online Shoppers Happy
Those who did venture onto the Web for their holiday shopping spent an average of $330 online for gifts, according to the study. Additionally, 34 percent of online buyers said they bought someone a gift they were not planning to buy until they first saw it online.
Seventy-nine percent of online holiday shoppers said that shopping online saved them time (three hours, on average), and 51 percent believed that shopping online saved them money.
While 33 percent said the Web improved holiday shopping for them, 8 percent said the Internet made holiday shopping less enjoyable.
Who's Shopping Online
Americans who log on from work are more likely than their counterparts to buy gifts online. The survey found that 32 percent of people with Internet access at work purchased gifts online, compared to 24 percent of the general Internet population.
Twenty-eight percent of holiday shoppers said that they used the Internet while at work to buy a holiday gift, while 85 percent said they made gift purchases at home, meaning that some shoppers made purchases from both home and work.
Most likely to buy online were college educated shoppers with household incomes of more than $75,000, and Internet veterans with more than three years experience online. The survey found that 26 percent of those with more than three years of Internet experience bought gifts online, compared to 9 percent of those with less than six months of online experience.
The survey found that Americans living in the Northeast (34 percent) were more likely to log on to buy gifts than people living in other parts of the country, and Midwesterners were the least (18 percent).
Although men are more likely to buy online year round — 49 percent of men versus 45 percent of women — 27 percent of online women bought a gift online during the holiday season, compared to 20 percent of men.