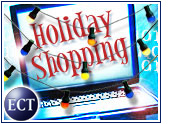 America Online said Tuesday that its members spent more than US$4.6 billion online during the holiday season and $20 billion for all of 2000. The latter figure is more than twice what was spent the year before.
"It's clearer than ever that online shopping is growing by leaps and bounds," said AOL president Bob Pittman. "We've posted another banner holiday shopping season."
The shopping figures released by AOL reveal how much clout the dominant Internet service provider carries in the e-commerce arena, as Internet measurement firm BizRate.com said last week that online shoppers spent $6 billion total during the six weeks leading up to Christmas. The numbers AOL released Tuesday would account for 75 percent of that total.
AOL membership recently passed the 26 million mark. In addition, the company said Tuesday that it set a record on Christmas Day when it signed up more than 70,000 new members.
Ready To Spend
AOL said an internal survey of its members found that 75 percent purchased something online during the past year and that 95 percent of that total said they will buy online again during the next six months.
AOL's shopping hub connects users to scores of online merchants, including suchtraditional retailers as Macys.com, Nordstrom.com, Sears.com and Target.com. Brick-and-click department stores were among the biggest gainers in this year's e-tail market, according to several recent studies.
To boost its sales, AOL launched an upscale shopping area two weeks before the holiday shopping season started.
Yahoo! Times Two
AOL's figures come a week after Internet portal Yahoo! said sales to its sites nearly doubled in the U.S. over 1999 levels.
Both companies said that clothing, toys and games, books and music, and electronics saw the heaviest sales during the holiday season.
AOL vice president of e-commerce Patrick Gates said that Shop@AOL was busiest during the evening hours, when traditional retailers are closed.
Close to Merger
As 2001 begins, AOL is hoping to clear the final regulatory hurdle in its bid to merge with media giant Time Warner. The $100 billion deal won what appeared to be a decisive approval from the U.S. Federal Trade Commission in mid-December.
More recently, however, officials at the U.S. Federal Communications Commission have questioned the merger, raising the possibility that what was expected to be a formality may become more of a roadblock.