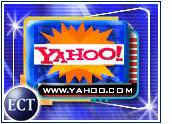 Yahoo! Inc. surged 1 5/8 to 31 3/16 Tuesday after the online giant saide-tail sales over its properties were strong this holiday season.
The Santa Clara, California-based Internetcompany said that order volume for its shopping properties outside the United Stateswas more than six times that of last year. Meanwhile, sales in the U.S.nearly doubled from a year earlier.
"This holiday season's strong results continue to show that consumers aroundthe world are embracing the choice and convenience offered by Yahoo!Shopping," said Rob Solomon, the division's vice president and generalmanager. "Outside the United States, we have established a solid platform in14 countries, while domestically we saw continued strong growth."
Echoing a trend seen throughout the e-tail world this holiday season, Yahoo!said sites on its network that also had physical stores saw order volumenearly triple.
Shopping volume hit a peak on Monday, December 11th, the company said.
The hottest products this year included Sony PlayStation consoles, Harry Potterbooks, digital cameras and robotic dogs and cats.
Yahoo! shopping sites are now available to Internet users around the world,with the company's launch this year of properties in Singapore, Brazil,Canada and Hong Kong.
Yahoo! shares have fallen in recent months, along with those of othercompanies dependent on Internet advertising. The company has seena 52-week high of 250 1/16 and a low of 25 1/16.