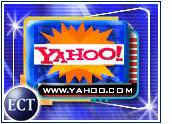 Yahoo! Inc. (Nasdaq: YHOO) closed down1/16 at 27 15/16 Wednesday after a pair of analyst downgrades pushed thestock as low as 25 1/2 in intraday trading.
Analysts at CIBC World Markets and US Bancorp Piper Jaffray lowered theirratings on the stock to buy from strong buy amid increasing signs that aslow economy is putting pressure on Internet advertising.
US Bancorp Piper Jaffray said e-commerce growth at the company is provingslower than expected, and a weak stock market and potential economicslowdown reduce the likelihood of any near-term stock price appreciation.The firm expects the company to earn 49 cents per share this year and 57cents in 2001.
Yahoo! shares are down from a 52-week high of 250 1/16.
The firms are just the latest to issue cautionary comments on Yahoo!, whichanalysts say is heavily dependent upon advertising. The market for onlineadvertising has been suffering, with companies like DoubleClick and 24/7Media warning that a slowdown in business will hurt results for the currentquarter.
Last week, Robertson Stephens and Deutsche Banc Alex. Brown issued warningsabout Yahoo!. A week earlier, a downgrade at W.R.Hambrecht sent the stock to a 52-week low.
Merrill Lynch, SG Cowen Securities, Dain Rauscher Wessels and JanneyMontgomery Scott have all lowered their ratings on Yahoo! in recent months.
The online ad market is suffering primarily from the loss of its biggestgroup of customers as dot-com companies either go out of business or cutback on ad spending as they struggle to conserve cash.