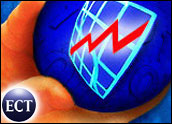 NetCreations, Inc. (Nasdaq: NTCR) rose 2 9/32 to 6 21/32 Thursday after thee-mail marketing company said an unidentified suitor offered to buy thecompany for US$7 per share, beating a pending offer from DoubleClick(Nasdaq: DCLK).
NetCreations said directors found the other offer "superior," and notified DoubleClick that the agreement was off unless a sweeter proposal was in the offing.NetCreations agreed in Octoberto merge with DoubleClick, but the agreement allowed the company toentertain other offers.
After the close of trading, DoubleClick said it would not make acounter-offer, and called off the merger plan, leaving NetCreations to pay atermination fee of $8.6 million plus expenses.
NetCreations opened lower Friday, losing 1/32 to 6 5/8 in early trading.DoubleClick rose 1/2 to 9 11/16 over the same period.
"We are disappointed that NetCreations won't be a part of our success, butconsidering NetCreations' recently announced operating results and our owninternal progress on e-mail, we have decided not to raise our existingoffer," said DoubleClick chief financial officer Stephen Collins.
"Going forward, we will continue to aggressively pursue opportunities togrow our e-mail business both organically and through acquisitions," Collinssaid.
In November, NetCreations lowered its forecastsfor fourth-quarter revenue and earnings, citing a "challenging" environmentfor online advertising and marketing.
"Our revenues and earnings to date have been adversely affected by thedecline in marketing-related expenditures associated with our e-commercecompanies and other dot-com customers," said chairman and chief executiveofficer Rosalind Resnick. "In addition, we have not yet seen the surge inholiday spending this year that we traditionally experience during thefourth quarter."