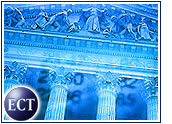 Engage, Inc. (Nasdaq: ENGA) was down27/64 at 1 35/64 early Wednesday after the company, which makes software forthe online advertising industry, missed analysts' estimates for the quarterended October 31st, and said it is reviewing its targets for the currentfiscal year.
The Andover, Massachusetts-based company, an operating subsidiary of CMGI,Inc. (Nasdaq: CMGI), said revenue for the fiscal first quarter was US$41 million, up 105 percent from a year earlier but down 38 percent from the fourth quarter.
The loss before extraordinary items widened to $48.7 million, or 26 centsper share, from $23.9 million, or 14 cents, in the year-earlier quarter.Company officials had predicted a loss of 25 cents per share. The net lossfor the quarter was $173.8 million, or 92 cents per share, compared with aloss of $112.3 million, or 64 cents, in the fourth quarter.
The company blamed the shortfall on a weak market for online advertising,with "additional bad-debt expense" cutting into results as some customersbecame "increasingly less financially stable" during the quarter.
Tony Nuzzo, who recently took over as president and chief executive officer,hinted at a restructuring. "Clearly, we are very disappointed in the resultsfor the first quarter," Nuzzo said. "In order to improve the financialhealth of Engage in this tough market, significant changes will be made inthe short term."
Nuzzo said the company will detail its plan for creating a "simpler, moreefficient company" within the next few weeks. The focus will be on achievingbreakeven — before restructuring and other charges — by the end of thefiscal year.
Engage said it is reviewing its targets for financial performance in fiscal2001, and expects to lower its expectations for revenue and operatingresults.