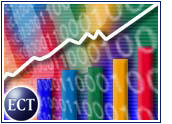 Internet incubator CMGI, Inc. (Nasdaq: CMGI) reported a smaller-than-expected loss for the fiscal fourth quarter as revenue from its search engines soared.
CMGI chairman and chief executive officer David Wetherell also said the company will go ahead with the initial public offering (IPO) of its AltaVista unit by the end of Q1 2001.
The IPO, first filed for last December, was postponed after this spring's Internet stock plunge.
Eye on Profitability
CMGI, which recently consolidated its 17 operating companies into six segments, said it expects five of the six operating groups to be profitable — before taxes and items — by the end of next year.
Revenue for the fourth quarter ended July 31st rose to a record $377.2 million (US$), up 568 percent from a year earlier and led by a big gain in the Internet professional services group. Revenue for the year rose 382 percent from last year to $898.1 million.
Loss Narrower Than Forecast
Yet CMGI posted a loss before charges of $142.8 million, or 49 cents per share. Including charges, the company lost $633.7 million, or $2.17 per share, compared with net income of $451.75 million, or $2.37, in the same period last year. Analysts were expecting a loss of $2.45 per share for the latest quarter.
"The dramatic growth exhibited across the CMGI network in the past quarter and throughout the past year is a powerful testament to the strength and increasing reach of our companies," said Wetherell.
The results were reported after the close of trading Thursday. Early Friday, CMGI shares were up 1 27/64 at 37 55/64.
AltaVista Layoffs
AltaVista laid off 25 percent of its workforce during the quarter as part of an effort to cut costs.
Latest quarter results include a charge of about $15 million for the AltaVista layoffs, according to CMGI chief financial officer Andrew Hajducky.
"We'll have some more in the first quarter of this year," Hajducky said. The size of the next charge is still being determined, though it will likely be in the $7 million to $8 million range.
There might not be much demand for AltaVista as a stand-alone company, said David Menlow, president of IPOFinancial.com. After two failed attempts to go public, "this offering is damaged goods in the eyes of investors," Menlow told the E-Commerce Times.
Breaking Out Results
This quarter's results were the first to break out the numbers for each of CMGI's newly reorganized operating segments, which the company said would provide a clearer picture of the various divisions. The firm also said it expects to further reduce the number of companies it operates.
CMGI owns majority stakes in Engage (Nasdaq: ENGA), NaviSite (Nasdaq: NAVI), iCAST, MyWay.com and uBid.com. The company is based in Andover, Massachusetts.