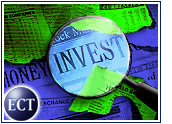 DoubleClick (Nasdaq: DCLK) wasup 1 3/16 at 13 1/8 in early trading Tuesday, even as the online advertising company reportedly warned of a fourth-quarter loss because of lower ad revenue.
Officials at the controversial firm reportedly told analysts andinvestors on a conference call that it expects a loss of 3 cents per sharein the quarter, compared with analysts' expectations for a 2 cent profit.Revenue will come in between $126 million and $129 million, also belowexpectations, reports said.
In the call, which took place after the close of trading Monday, officialsreportedly said they expect a loss for the first quarter of next year aswell, though they still expect a profit for the year as a whole.
DoubleClick shares took a pounding Monday after the company announced it would hold thecall. Back in October, DoubleClick warned of a weak fourth quarter.
Analysts have been wary of onlineadvertising stocks for some time, as the companies struggle to cope withweak sales. Dot-com companies, once big spenders, are going out of businessor cutting costs, even as larger, more traditional advertisers are delayingbig campaigns.
DoubleClick reported third-quarter revenue of $135.2 million, 79 percentabove a year earlier, while income before items totaled $3.7 million, or 3cents per fully diluted share, compared with a loss of $3.8 million, or 3cents, in last year's third quarter.
DoubleClick shares are down from a 52-week high of 135 1/4, reached inJanuary. The 52-week low of 8 3/4 was set October 18th.
Last week, reports ofplanned layoffs at the company sent the stock lower.