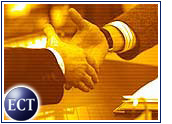 Controversial Internet advertising firm DoubleClick, Inc. (Nasdaq: DCLK) announced Monday that it will acquire online market research firm @Plan (Nasdaq: APLN) in a deal worth approximately $120 million (US$). The companies said the deal will enable both firms to provide enhanced research and planning solutions tools to the online marketing community.
"As two industry leaders with a combined client base of over 6,000 top ad agencies, advertisers and Web publishers, we are confident we will further be able to build out our client bases," said DoubleClick chief executive officer Kevin Ryan.
Inside the Deal
Under the terms of the agreement, expected to be consummated in the fourth quarter of 2000, each @Plan stockholder will receive $9.25 — representing a 28 percent premium over @Plan's closing price of $7.25 on Friday — for each share of @Plan common stock. Stockholders will receive 20 percent of their consideration in cash and the remainder in DoubleClick common stock.
The $9.25 per share value is subject to adjustment if DoubleClick's stock price dips below $23.87 over a 10 trading-day period ending four trading days before @Plan's stockholder meeting. The deal is subject to regulatory and @Plan stockholder approval.
DoubleClick said it will build on @Plan's research capabilities to assemble its own research division for clients to make informed e-commerce and advertising choices.
Additionally, DoubleClick said that its technology infrastructure, resources and international presence will allow @Plan to expand and improve its product line.
Managing Management
After the transaction is complete, the combined company will be headquartered in New York City, though @Plan's headquarters will remain in Stamford, Connecticut. Greg Ellis, DoubleClick's Vice President and General Manager of Research, will become president of @Plan. Susan Russo, @Plan's executive vice president, will become chief operating officer.
@Plan's current CEO and chairman of the board, Mark Wright, will stay on as CEO until the deal is finalized. He will then serve as a consultant to assist with the transition.
The Trouble with Cookies
DoubleClick embarked upon a difficult year in July 1999 when it acquired Abacus Direct for $1.7 billion and endeavored to connect shopping habits with identities and other personal information about individual online consumers. The company was sued in January over allegations that it had sold the personal information of online users.
Although DoubleClick quickly backed off and said that it had never actually taken action to track consumers across Web sites, the ensuing brouhaha generated a U.S. Federal Trade Commission (FTC) investigation into the company's practices and led Michigan attorney general Jennifer Granholm to liken DoubleClick's actions to "spying and wiretapping."
The company is also being sued by rival 24/7 Media for patent infringement. The suit, filed in May, claims that DoubleClick's DART technology infringes on a patent issued to 24/7 Media in 1996.