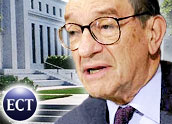 The Federal Reserve increased interest rates by another quarter point and expressed optimism that the economic recovery remains on track, providing a spark for a late-day rally on Wall Street.
In a widely anticipated move, the Fed boosted the benchmark federal funds rate to 1.5 percent, the second increase in about two months.
Most observers had expected the rate hike despite some weak economic data, including two straight months of sharply lower employment growth.
The Fed remained upbeat about growth as well.
In a statement, it said high energy prices have muted spending by consumers and corporations, but that the economy remains "poised to resume a stronger pace of expansion going forward."
What the Doctor Ordered
The stock markets, which were trading higher ahead of the Fed meeting, went into rally mode after the afternoon announcement.
The Dow climbed 130.01, or 1.3 percent, to 9,944.67.
The Nasdaq was the day's biggest percentage winner, climbing 34.06, or just under 2 percent, to 1,808.70.
The S&P 500 1,079.04 finished the day up 13.82, or 1.3 percent.
Other Market News
After the closing bell, attention quickly turned from Alan Greenspan's Fed announcement back to corporate earnings, with Cisco Systems and Walt Disney both due to report.
Both stocks traded higher ahead of their reports.
Cisco said profit rose to $1.4 billion in its fourth quarter up from $982 million a year ago as sales rose 26 percent over last year to $5.9 billion.