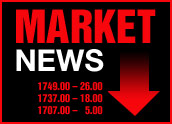 Federal Reserve Chairman Alan Greenspan today continued to declare the U.S. economy healthy and ready to continue growing, but investors turned their attention to corporate earnings and didn't like the outlook they saw, sending the markets sharply lower as a result.
The markets started the day well into positive territory amid Microsoft's decision to distribute much of its cash stockpile back to investors and Greenspan's largely upbeat comments.
But all three major stock averages finished the day in the red as some key earnings announcements included warnings about slower growth in the second half of the year.
Greenspan Speaks Again
The Dow plunged 102.94 points, more than a full percentage point, to 10,046.13.
The Nasdaq lost more than 2 percent, dropping 42.70 points to end the session at 1,874.37.
The S&P 500 also fell sharply, down 14.79 points to 1,093.88.
In his second day of testimony to Congress, Fed Chairman Alan Greenspan said one potential boost to the economy would be if businesses shed their reluctance to invest heavily in new equipment and expansion.
Greenspan said business weariness — which he attributed in part to the tech bubble burst, terrorism fears and corporate scandals — has kept the expansion from looking like other periods of recovery, but may actually help by replacing a large surge of growth with a longer, more gradual period of expansion.
Another IPOs
"That would be one the reasons why a gradual expansion, which we now seem to be experiencing, does bode well for next year," he said.
Though markets have been ragged in recent weeks, Wall Street still appears to be welcoming to new companies staging IPOs.
Today, DreamWorks Animation filed to go public in a deal estimated to be worth around $650 million.