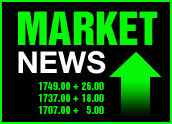 Oil prices eased off record highs, giving investors enough breathing room to move Wall Street slightly higher on Thursday after another round of positive earnings reports.
The Dow finished higher by 12.17 points, closing at 10,129.24.
The Nasdaq was also up, gaining 22.80 points, or more than 1.2 percent, to close at 1,881.06.
The The S&P 500 climbed 5 points to 1,100.43.
Dragging the Dow
Dragging on the Dow was General Motors, which lost more than 3 percent after two separate analyst reports downgraded the stock based in part on the company's growing inventories of cars waiting to be sold.
Another stock that left a bad taste in investors' mouths was Krispy Kreme doughnuts, which lost 12 percent after confirming an informal Securities and Exchange Commission investigation was under way into a profit warning it issued earlier this year.
But a slew of other companies, including GM competitor Daimler-Chrysler, oil giant Exxon-Mobil and consumer products maker Gillette, reported earnings that met or exceeded expectations.
Oil Still a Concern
Oil prices still hovered near the 20-year highs set on Wednesday, but eased some after Russian officials said they would not force that country's largest oil producer, Yukos, to shut down in the face of massive unpaid tax bills.
Some economists believe the high price of oil will be a drag on the U.S. economy and point to recent comments by Federal Reserve Chairman Alan Greenspan, who acknowledged that spikes in fuel prices contributed to less overall consumer spending earlier in the summer, which in turn let some steam out of the economic recovery.
But optimists were eagerly awaiting new economic data on how the economy and job market fared during July.
And they were able to hang their hats on a three-day stock rally that began on Tuesday and has lifted stock prices well above the lows they set at the end of last week.