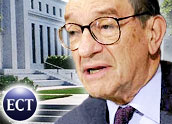 Federal Reserve Chairman Alan Greenspan said the U.S. economy is poised to continue expanding, and suggested that the sudden drop in consumer spending related to inflation will recede over time.
In closely watched testimony to the Senate Banking Committee, Greenspan said sharp price increases that may have slowed consumer spending — especially in food and energy — are "transitory" and "accounted for at least some of the observed softness in consumer spending of late, a softness which should prove short-lived."
The chairman's comments were seen easing worries that the recovery had stalled out as a raft of economic data from June showed lower retail sales and many companies tempered outlooks after reporting second-quarter results.
Reason to Buy
Greenspan's comments, which also suggested that moderate interest rate hikes would be the preferred course of action, gave Wall Street a needed boost and helped lift all major indices to higher closes.
The Dow closed up 55.01 points to 10,149.07, ending a four-day losing streak for the blue-chip index.
The Nasdaq gained more than 1.7 percent, or 33.24 points, to close at 1,917.07, and the S&P 500 finished up 7.77 points at 1,108.67.
Reasons to Sell
Still, investors who want to see the glass as half empty had their share of evidence as well on Tuesday, as the Commerce Department reported a sharp drop in housing starts in June.
New home starts were down 8.5 percent from May, and the number of housing permits issued also fell.
The housing market has been one of the strongest performing sectors of the economy in recent years, although economists predicted a slight cooling off once interest rates began to rise.