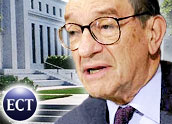 Federal Reserve Chairman Alan Greenspan calmed nerves frayed by inflation and rate-hike worries Tuesday by saying that inflation is "not likely to be a serious concern" in the near future.
Speaking to a congressional committee holding a hearing on his nomination to a fifth term, Greenspan said huge spikes in oil costs have not impeded the growth of the U.S. or overseas economies yet, although he acknowledged that they "could become a problem."
Greenspan said employment should continue to rise as well, saying that recent gains of 200,000-plus jobs a month are sustainable for some time. He added that the Fed's overall view is that "inflationary pressures are not likely to be a serious concern in the period ahead."
Rally Stocks
Greenspan's soothing words and a Consumer Price Index that was in line with expectations and showed prices for nonfood and fuel items rising moderately helped move stocks higher, although a late-day sell-off wiped out most of the day's gains.
The Nasdaq, at one point trading up 1.5 percent and above the 2,000 range, closed up 1.3 percent, or 25.61 points, at 1,995.60. The Dow was up 45.70 to 10,380.43 and the S&P closed at 1,132.01, up 6.72 on the day.
Microsoft Making News
Leading stocks included Microsoft, which was up on an analysts' report that Microsoft might initiate a large-scale stock buyback program to boost the company's per-share price.
The software giant's shares were up more than 2 percent during the trading day and closed up half a percent at 27.40. Intel also had a good day, closing up 1.5 percent at 28.43 after being caught in a semiconductor sector sell-off on Monday.
Also up was aircraft maker Boeing, which clocked a 1 percent gain on the strength of winning a US$3.9 billion Navy contract.