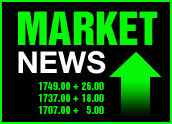 U.S. stock markets might have been closed Friday to honor the memory of President Reagan, but currency markets were busy reacting to more warnings from Federal Reserve members that interest rate hikes are all but inevitable.
Overseas currency trading Friday reflected the new warnings, with the U.S. dollar rising against many currencies. The greenback rose to a three-week high against the Euro and was higher against all major currencies.
On Friday, Jack Guynn, the president of the Atlanta Federal Reserve Bank, said the Fed's typical "measured" approach to rising rates as the economy heats up to stave off inflation is "more of a plan than a pledge," indicating the Fed is ready to move as needed. In a speech, the president of the Cleveland Fed echoed that theme, saying that failure to act swiftly could damage the Fed's hard-fought credibility.
They became just the latest in a chorus of Fed members to issue warnings that seem aimed at giving equity and bond markets — and consumers — a chance to get used to the idea of sharply higher rates before they are put in place.
Quarter and a Half
Most observers still expect a quarter-point increase in the Fed funds rate when Chairman Alan Greenspan convenes the Fed on June 29th and 30th. But electronic trading in bonds — the Chicago Mercantile Exchange was also closed — on Friday suggested the consensus is now embracing the idea of another half-point increase at the Fed's August 10th meeting.
Interest rates have been at historic lows as the Fed tried to help jump-start the U.S. economy after the tech implosion. But strong economic growth and rising prices, especially for fuel and food, have raised fears of inflation, which could quickly derail any recovery. The Fed last raised interest rates some four years ago.
Not Enough Information
Investors had hoped to get a key piece of inflation-related data from the U.S. government late Thursday.
But the Producer Price Index — a measure of inflation at the wholesale level — was postponed indefinitely by what the Bureau of Labor Statistics (BLS) called "calculation problems." The Consumer Price Index is slated to be released next week.