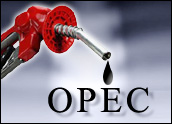 Oil prices defied numerous predictions by rising slightly Thursday, as disruptions in Iraq and fears that other Middle East countries would be hit by terrorists countered OPEC's decision to boost production.
Meanwhile, an OPEC minister said other unpredictable forces, such as a workers' strike in Nigeria, the first-largest source of oil imported to the United States, could help keep prices from falling as expected when OPEC begins to pump more oil starting in August.
OPEC President Purnomo Yusgiantoro said that whether prices actually fall could depend largely on such "non-fundamental factors."
Markets Rise
The stubbornness of oil — futures prices crept back above US$38, still well below the $42 record set just a week ago — did not dampen a successful day on Wall Street. All major indices finished higher, with the Dow gaining 41.66 to close at 10,410 and Nasdaq climbing 9.26 to 1,999.87, just short of the 2,000 level.
The stock market seems to be adjusting well to the expectations that interest rates could rise quickly in coming months, as warnings by various members of the Federal Reserve Bank in recent days have not caused large fluctuations in the averages.
Meanwhile, two pieces of news helped moved stocks during the day.
First, in the retail world, Target announced a $3.2 billion deal to sell its Marshall Fields stores to May Department Stores.
And in the technology area, the Semiconductor Industry Association of America gave a better-than-expected forecast for 2004 chip sales, saying the industry could see record sales with gains of 29 percent over last year's levels.
Tucking In
Observers said investors in the stock market — and, to an extent, the oils future market — were all seen acting cautiously heading into an unexpected three-day weekend created by Friday's National Day of Mourning for President Ronald Reagan.
In the oil market, in particular, investors might have been hedging against terrorist attacks hitting oil supply.
On Thursday, the U.S. said a key Iraqi oil pipeline about 150 miles north of Baghdad was hit by saboteurs.