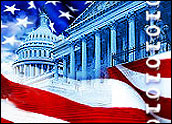 The Bush administration said Wednesday it will not pursue an appeal of a court ruling that frees regional telecommunications giants from having to sell wholesale access to their networks to nationwide carriers at discount prices.
The decision by U.S. Solicitor General Theodore Olson not to seek Supreme Court review of a March appeals court ruling clears the way for the elimination of strictly regulated discounts that regional carriers created by deregulation — Verizon, SBC Communications, BellSouth and Qwest Communications — are required to offer other telcos that want to send local telephone traffic over their networks.
Those discounts came about after the 1996 Telecommunications Act, which laid the groundwork for opening both long-distance and local phone service up to competition. The competition was hailed at the time as a boon for consumers, and industry groups say some 19 million customers have switched local phone providers since competition was introduced.
Varied Reactions
The decision met with immediate criticism from what were traditional long-distance telephone companies that entered local markets at the same time that regional carriers were given access to their long-distance networks.
In a statement, AT&T General Counsel Jim Cicconi called the decision "disturbing." "The Administration made the wrong choice, and phone service for 20 million consumers and small businesses now hangs in the balance," Cicconi said.
"This is bad news for consumers, who will soon see some phone service prices go up," long-distance carrier Sprint said in a statement. "It is also bad news for the telecommunications industry, which will face continued investment uncertainty and an immediate splash of cold water on local phone competition."
Political Potato
The Bush administration was said to have carefully considered how to proceed in its handling of the matter, with political operatives reportedly fearing an outcry among consumers — and voters — should phone prices rise sharply before the November election.
The existing Federal Communications Commission rules on network access are set to expire on June 15th.
The Consumers Union and other watchdog groups also lashed out at the decision, predicting higher prices in the near future.
Peter Arnold, a spokesperson for the Voices for Choices coalition, which lobbies against the Baby Bells in Washington, D.C., and whose members include scores of small telecom concerns, told the E-Commerce Times that higher prices will hit "like a rock."
"The only reason calling prices dropped in recent years is because competition emerged," Arnold said, adding that the Bush administrator "flipped" positions, now saying it wants less regulation.
Muted Impact?
Some observers thought the ruling was less significant than it would have been several years ago, before Voice over Internet protocol (VoIP) became a viable alternative. The recent emergence of VoIP should help minimize the impact of any price hikes, especially for businesses, and may actually drive adoption of the technology.
Infonetics Research analyst Matthias Machowinski told the E-Commerce Times that thousands of businesses report looking at VoIP as an option or are considering boosting spending this year on the initiative.
"The cost savings are driving businesses to VoIP already," he said. "Anything that makes it more appealing from a price standpoint is only going to further increase adoption."
The debate about whether or how to regulate VoIP will likely become more intense as well, Machowinski added.