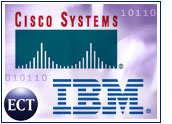 Saying the market for sending voice, video and other communications over the Internet is enormous but largely untapped, IBM and Cisco have announced they will work together to help companies make use of the money-saving option.
IBM will market its consulting and integration services and will support a range of Cisco's voice, video and conference hardware and software offerings. Financial terms of the deal, which also calls for the two companies to more closely integrate some of their products, were not disclosed.
All for One, One for All?
The alliance comes as the IP telephony market is poised to continue a trend of rapid growth. A study released this week by Infonetics Research found companies that already are using the technology plan to more than double their spending on VoIP products and services this year compared with last year. The firm said the market is "still in its infancy," particularly in the United States.
Meanwhile, Gartner analyst Deborah Kish said Cisco and IBM appear to be striving to enable truly converged communication networks, in which a single infrastructure can handle many and varied types of business communications.
That level of convergence is still far in the future for most enterprises, but Kish told the E-Commerce Times that the deal signals how committed technology companies are to making VoIP work.
On the Line
IBM vice president Doug Elix agreed the two companies are "considerably increasing" their investments in the Internet Protocol (IP) area because they believe enterprises will handle all of their communications over data networks in the future.
"Converged communications running on intelligent networks is changing the way business is conducted, and we expect both companies to be major players in that business transformation," Elix said.
Like other enterprise-friendly offerings, the IBM-Cisco partnership seeks to bundle voice with other communications tools, including instant messaging and videoconferencing. Cisco products will be integrated with IBM offerings, such as Lotus Domino and IBM database management software.
In keeping with IBM's vertical segment approach, specific solutions will be aimed at the financial services and retail industries.
Plenty of Company
IBM and Cisco are not alone in their initiative. Yahoo and British Telecom have launched a similar effort to bring VoIP to the masses, and high-speed Internet provider Covad has begun to roll out its own offering, joining a host of IP-focused startups and telecom giants crowding into the space.
How the market for voice and video over Internet will shake out is still anybody's guess, Aberdeen Group vice president Jim Hurley said in an interview with the E-Commerce Times, but there is little doubt that more data networks will be harnessed to carry voice and video.
"The value proposition is something that has every company looking at how it can harness this," Hurley said. "The cost savings will drive adoption," with network hardware and integration vendors among those in a strong position to benefit from the trend.
Who's the Boss?
In addition to an uncertain competitive environment, the VoIP segment also faces a hazy regulatory future, with the Federal Communications Commission (FCC) weighing its options and federal lawmakers considering bills that would determine who regulates the technology's use.
However, IBM and Cisco said they believe solutions that address three issues — security, mobility and integration — will carry the day, regardless of external forces. Cisco vice president Charlie Giancarlo said the solutions will go beyond simply migrating voice to data networks and will unlock additional synergies in unified messaging, customer call centers and rich media communications.
Investigation Continues
Cisco Systems, meanwhile, is continuing its investigation into a potential leak or theft of source code for its networking infrastructure solutions.
A day after acknowledging it is looking into reports that the code had been posted online, Cisco continued to say only that it has an internal team investigating the code to determine if it is authentic and how it may have fallen into the hands of hackers.