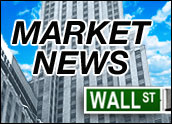 Concerns that the Federal Reserve will move aggressively to quash inflation as the economy expands more rapidly led to a sharp drop in the prices of U.S. Treasury notes Wednesday and may have helped stock markets stay in the red.
Two-year and ten-year Treasury bonds both traded lower as investors began to bet more heavily that rising inflation will force a faster-than-expected increase in interest rates. Rates for the debt sagged even though the government reported strong interest in some US$15 billion worth of paper it floated on Wednesday.
All major indices traded lower for the bulk of Wednesday's session. The Dow fell 64.08 to close at 10,368.44. The Nasdaq lost 1.6 percent, tumbling 32.92 percent to 1,990.61.
Eyes on PPI
The drop in Treasuries is just the latest sign that investors expect interest rates to rise, and possibly to climb faster than some had predicted. Two key pieces of data may help answer the question.
On Thursday, the government will release its Producer Price Index for May. Economists are predicting an increase of .6 percent for the index, which measures inflation at the wholesale level. That would be lower than the .7 percent clocked in April.
The numbers, usually released on Friday, will be released a day early because federal agencies will be closed as part of a National Day of Mourning for former President Ronald Reagan. The retail-level Consumer Price Index is due to be released next week.
No Strain Seen
While investors were digesting comments made Tuesday by Fed Chairman Alan Greenspan that indicated the Fed was prepared to depart from its usual approach of slowly increasing core interest rates if more dramatic action is needed to prevent inflation, another Fed policymaker said financial markets are ready for the all-but-inevitable rate increases.
Fed board member Timothy Geithner said markets have already begun to adjust to the higher interest rate environment, even before the hikes become official. That will help reduce any "strain" on the markets and the economy, he suggested.
Watching and Waiting on OPEC
On Wednesday, however, interest-rate concerns seemed to overshadow good news on the oil price front. The U.S. government said oil stores were growing, apparently because higher prices were curbing demand somewhat.
Combined with upcoming production increases from OPEC, that could help drive prices for crude oil, which have hovered around record levels, sharply lower in coming weeks.