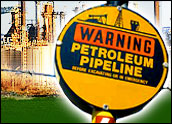 Oil prices headed higher again Thursday after more violence broke out in Iraq. U.S. stocks remained in a muddle as business forecasts and inflation concerns converged.
Crude oil futures sold on the New York Mercantile Exchange spiked more than a dollar to US$38.46 after news hit of a bombing attack in downtown Baghdad, ending a two-week period of easing prices.
Promises of ramped-up production and increasing stores of oil in the U.S. had helped oil come well off its historic highs of $42 a barrel starting in early June.
But the attacks seemed to have stirred concerns about the ability of Iraq to export oil amid continuing violence.
Two key pipelines in the country remain shutdown after an earlier sabotage attack.
PPI Up
In the United States, it was another shift on the inflation watch for investors as the Labor Department released the delayed Producer Price Index (PPI) for May.
Wholesale prices rose by 0.8 percent, the largest jump in more than a year. With food and fuel taken out, prices rose 0.3 percent, still ahead of forecasts.
Meanwhile, in a move likely to soothe many investors, the Senate Banking Committee voted to back the appointment of Alan Greenspan to a fifth term as chairman of the Federal Reserve.
The full Senate is expected to agree quickly, likely before his current term ends on Sunday.
Numbers Game
Wall Street also had to piece together what a lackluster forecast from a semiconductor company meant for the technology sector.
Jabil Circuit, which matched expectations for its third quarter, issued a forecast for the current quarter that was well below what analysts had expected, helping to send tech stocks lower.
The Nasdaq was the weakest index on the day, trading down 14.56 points to 1,983.67.
The Dow dipped into the red late in the day and stayed there, losing 2.06 points to 10,377.52. The S&P also finished down, off 1.53 at 1,132.03.