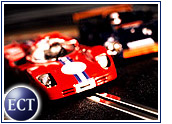 It was a news item that wasn't fully unexpected, yet it caught some e-commerce industry observers off guard.
Last week, online delivery service Kozmo locked up its bikes, cashed in its dreams and became another footnote in the work-in-progress version of electronic commerce history.
Kozmo's ticket was punched not long after the demise of NBCi.com (Nasdaq: NBCi), the Internet arm of NBC Television. Well, perhaps it wasn't a demise so much as a necessary absorption by parent company General Electric (NYSE: GE).
GE evidently decided to cut its losses and trip the off switch on NBCi.com before the venture caused the conglomerate any further embarrassment. And how do you accomplish that if you're a mega-power like GE? Simple. You just buy back all the outstanding publicly held stock and re-direct the public's interest into Must-See TV.
Will Monica and Chandler really get married next month? Will Grace move out of Will's apartment again?
See? They've already re-directed my attention and it's only been a few days.
Why It Matters
So, with dot-coms closing right and left, why do these two companies' simultaneous endings matter?
In part, they are particularly noticeable because Kozmo and NBCi had real-world presence in their favor. Kozmo cyclists had almost become part of New York City's culture. New Yorkers, notoriously in a hurry for everything from corporate climbing to Ben & Jerry's Chunky Monkey ice cream, were able to satisfy at least some of their cravings with Kozmo's handy one-hour guaranteed delivery.
In nine markets nationwide, Kozmo aimed to please with instant gratification and actual humans to represent a concept that was born in cyberspace.
As for NBCi.com, its television network sibling has one of the strongest product identities in America. Some thought the relationship would give the online offspring a boost. It didn't.
If real-world presence and branding don't count for something in the world of e-commerce, what does?
Where's the Beef?
Actually, that may not be the right question to ask. A human face to connect with the keystrokes and a half-century of broadcasting probably do count for something. Perhaps the electronic newcomers simply didn't know how to take full advantage of their built in-head starts.
For Kozmo, what was the added value that it brought to the marketplace? For years, I have spent a good deal of time in New York, and delivery of everything from ethnic food to laundry detergent has never been a problem. If you live in one of the city's boroughs, your corner grocery store probably provides almost the same service Kozmo touted, albeit a bit slower sometimes. And if you stay in a decent hotel, one call to the concierge can generally yield the same moo goo gai pan or Tide.
Kozmo's concept, while a decidedly new age interpretation, was not a new value for consumers.
There was little added worth involved in visiting NBCi.com as well. How many sweepstakes and contests can we really endure?
Fiscal Focus
Of course, in the end, it came down to simple dollars and cents. For Kozmo, what began as the brainchild of one guy in his East Village apartment in New York resulted in investors pouring almost US$300 million into the company's promise.
Didn't anyone realize how much Ben & Jerry's you'd have to deliver in those nine markets to recoup that outlay, much less turn a profit? And why were heavyweights such as Softbank so willing to keep plying the service with cash, as recently as 12 weeks ago?
Further, if big investors were going to continue backing Kozmo, why didn't they insist the company infiltrate markets where delivery services would be a true added value in the marketplace? It's tough to get rented videos and cheese popcorn delivered in an hour in Omaha, Nebraska. Everyone seems to have missed the forest for the trees.
World-Weary Peacock
Meanwhile, observers wondered when the plug might be pulled on NBCi.com once it reported a loss of $662 million last year. Yet GE kept selling stock to all comers. What was that all about?
It's incredible that GE would risk its decades-earned reputation in such a irresponsible manner. The portal was clearly not going to make it. What is not so clear is why GE waited so long to kill it.
Mainstream conglomerates on the level of a GE would do well to take the NBCi debacle as an object lesson. Strong initials like NBC and GE backing dot-coms do not necessarily spell success.
While brick-and-click operations may be the inevitable direction for e-commerce, a company still needs added value, whether it's peddling e-commerce like NBCi or pedaling it like Kozmo.
What do you think? Let's talk about it.


---
Note:
The opinions expressed by our columnists are their own and do not necessarily reflect the views of the E-Commerce Times or its management.
---