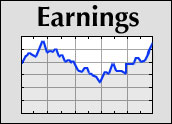 Boston Scientific today announced financial results showing net sales roared up 71 percent to $1.46 billion in the second quarter over the same time last year, and net income skyrocketed by 200 percent, to $377 million.
"We experienced impressive growth across all our businesses and regions,and we are reporting new records in both sales and earnings," Jim Tobin, president and chief executive officer of Natick, Massachusetts-based Boston Scientific, said.
"We were especially pleased with the strong conversion rate to drug-eluting[heart] stents in the United States, which reached more than 80 percent by theend of the quarter. This resulted in a significant leveraging of ourprofitability, and we will be working hard to ensure it continues in thecoming quarters," Tobin explained.
Medical Specialty Products
Boston Scientific is a worldwide developer, manufacturer and marketer ofmedical devices whose products are used in a broad range of interventional medical specialties.
The company reported that net sales for the second quarter were $1.460 billion as compared to $854 million for the second quarter of 2003, an increase of 71 percent.Excluding the favorable impact of $31 million of foreign currency fluctuations, net sales were $1.429 billion, an increase of 67 percent.
Net income for the quarter, excluding net special charges, increased 200percent to $377 million, or $0.44 per share, as compared to $126 million, or $0.15 per share, excluding net special charges, in the second quarter of 2003, the company reported.
Impact of Stent Recall
The income results include the net impact of the previously announced recall of certain units of the company's coronary stent systems, in the amount of $57 million after-tax, or approximately $0.06 per share.
The recall impact consists of a $78 million, pre-tax reduction to gross margin, including a sales reversal of $35 million and an inventory write-off of $43 million. The results also include a $0.01 dilution to earnings from the operating results ofAdvanced Bionics, which Boston Scientific acquired on June 1.
Reported net income for the quarter, including net special charges of$64 million after-tax, was $313 million, or $0.36 per share, ascompared to reported net income of $114 million, or $0.13 per share, inthe second quarter of 2003. The net special charges reflect purchasedin-process research and development costs related to acquisitions.