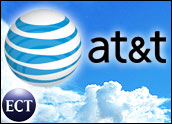 Bidding to stake a claim in the converged world of Internet and entertainment, AT&T Wednesday unveiled an expanded Homezone service. The product integrates high-speed Internet service with satellite TV and home networking functionality to create a digital living room where a single device controls content from multiple sources and funnels it to television sets, stereos and other gadgets.
Homezone integrates the co-branded AT&T and Yahoo high-speed Internet service with DISH Network satellite TV and AT&T Home Networking into a single set-top box device. After a test-launch earlier this year in several markets, Homezone is now widely available, the telecom giant said, with the state of Connecticut the only major market in its coverage area not to have access to the service.
Integrating the Three Screens
AT&T said the service makes it the first telecommunications firm to offer "seamlessly integrated video content and TV entertainment to the 'digital living room," through both broadband and traditional satellite networks, with possible future connections to mobile phones and other devices.
"We are offering our customers a new way to experience home entertainment and communications, maximizing the strengths of integrated broadband and satellite delivery for entertainment," said Rick Welday, chief marketing officer for the telco's consumer division. "It also offers net-based remote access to the system, features that differentiate it in the marketplace, and it underscores our strategy to integrate the three screens that many consumers value the most today: the TV, PC and wireless phone."
The race to provide a more complete bundle of services has been on for some time. While cable companies were seen having an edge thanks to their base of TV content, telecom companies have been charging hard at the same opportunity.
The services will create vast new opportunities for consumers to self-program their home entertainment, downloading TV shows and movies on demand, from either traditional cable or satellite channels or through the Internet.
Features Aplenty
Homezone also features a built-in digital video recorder, as well as digital photo and music storage and playback capabilities.
To get Homezone, residential subscribers must already have the co-branded Internet access package and the in-home networking technology, and subscribe to the AT&T/DISH Network package of TV programming. Those customers can upgrade to Homezone, which offers a Web-based interface to run the entire system, for an additional US$9.99 per month. For full bundles of services, including long-distance calling from AT&T, most consumers would pay around $120 to $140 per month.
Eventually, Homezone will also work with AT&T IP-based video service, known as U-verse. That service is rolling out slowly and is now available only in San Antonio.
The Homezone controller — which was built for AT&T by 2Wire — will provide access to several AT&T services as well, including Web-based radio. AT&T said it plans to add a High Definition version of the tool in the future and to add additional content features from partners such as Yahoo and Akimbo.
Eventually, some of the features, such as remote video recording set-up, will be accessible through Cingular wireless phones. AT&T controls Cingular.
Crowded House
A host of other companies have designs on being at the heart of the converged, digital living room. Major PC makers are rolling out products meant to bridge the gap between PC and TV, Microsoft has its own line of set-top boxes and related software that is gaining traction in Europe and elsewhere, and Intel has laid out plans to build chips that help extend PC functionality further into the entertainment realm.
The launch underscores the changes in the industry and sets the stage for an epic battle between companies that began as phone providers and those that got their starts as cable TV providers, according to telecom industry analyst Jeff Kagan.
"It will take years for AT&T and all the competitors to roll out their range of competitive services, but the industry is changing," Kagan told the E-Commerce Times.
Over time, consumers should see the benefits of the new era of competition in the form of lower prices, which will help ease fears some advocates have that consolidation in the industry will harm consumers, he claimed. AT&T, for instance, is the roll up of BellSouth, SBC and the former AT&T long-distance company.
"As phone companies offer television service, they will start to put pressure on the cable television industry, and we should see high television prices begin to come down," Kagan added. "The pressure brought by competition can do things that even regulation cannot."