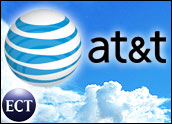 AT&T plans to start the New Year with a massive advertising campaign aimed at re-introducing one of the most venerable brand names in telecommunications history to consumers who may need a refresher course after an historic year of upheaval and consolidation in the communications industry.
AT&T — the name adopted by SBC Communications after it bought AT&T for US$16.9 billion — said it will spend millions on the campaign, which is being billed as the largest in the company's history. The effort gets underway on New Year's Eve during the television broadcasts of the traditional Times Square celebration in New York City. Some analysts said the company could spend several hundred million dollars on the effort.
The campaign will focus on a new tagline for the company: "Your world. Delivered," which the company said research showed resonated among its various customer segments, which range from consumers to some of the world's largest businesses.
"This campaign reflects that the new AT&T delivers what customers want most — the latest technology and services, backed by quality, reliability and integrity," AT&T CEO Edward E. Whitacre Jr. said in a statement. "This campaign will bring to life our pledge to deliver the real and proven solutions that enable our customers — consumers, small businesses, federal government agencies, global and regional corporations — to take charge of their world."
Telecom analyst Jeff Kagan told the E-Commerce Times that the campaign is meant not only to unveil the new AT&T, but to emphasize to customers, investors and others that the entire communications industry has changed dramatically.
"Telecom is not the same industry it was, and it is still changing," Kagan said. "I don't believe the average customer or investor really understands all the changes that are occurring in telecom."
Thinking Ahead
In that sense, Kagan said, the campaign is a way of letting customers and potential customers know that AT&T is capable of delivering the broad menu of services that consumers will soon turn to companies for — everything from wire-line and wireless phone services to Internet access and television service.
"Yesterday we did business with quite a few companies, including cable TV and telephone, wireless, and Internet providers," he added. "But tomorrow we will be able to choose one company, either the local phone company or the cable television company to provide many customers with all their telecom needs. The competition will unfold over the next few years, but currently both sides are gearing up to compete for the big bundle of services."
Some analysts expressed surprise that AT&T wireless or Cingular Wireless — which SBC owns 60 percent of — did not appear to be a major part of the campaign, at least up front. Some speculated that AT&T is still working out how it will handle the wireless part of its business, though SBC has said it wants to use the AT&T Wireless brand again.
Kagan said consumers can expect a wave of "general, big picture" messages from AT&T, which will become an umbrella for specific messages on various services. "AT&T is taking on a big responsibility educating the marketplace on the changes, but the payoff potential is also huge," he said.
AT&T said the New Year's Eve TV spot, titled "Eclipse" will be followed by a multi-media campaign online and off, including some 50 magazines, 100 newspapers and 1,000 billboards. A&T has also signed to sponsor the 2005 U.S. Olympic team and to underwrite the Cotton Bowl and the Pebble Beach Pro-Am golf tournament.
Busy Year
The campaign will include messages meant to target specific groups, including customers in the 13-state regional footprint of SBC, the company said, and include music from the British pop-rock band Oasis.
Some of the ads are designed to "reassure these customers that while the company's name has changed, its people and commitment to service have not," AT&T said.
SBC announced in October that it would take on the AT&T name once the deal closed, a move that surprised few observers. Despite AT&T's precipitous decline from a monopolistic telecom powerhouse to a largely niche provider of long-distance services to businesses, the company's name still resonates, analysts say.
SBC closed its acquisition of AT&T in mid-November and shortly afterward adopted AT&T's one-letter stock ticker symbol, T, and unveiled an updated logo.
That acquisition is just one of several tectonic shifts in the telecom landscape, which has been rattled by the emergence of new technologies — especially VoIP, which is dropping the cost of making local and long-distance calls dramatically — and additional competition.
The year coming to an end Saturday also saw Verizon Communications consummate an $8.5 billion takeover of long-distance provider MCI after a vicious bidding war with Qwest Communications and saw wireless firms Nextel and Sprint merge in a deal valued at $35 billion.