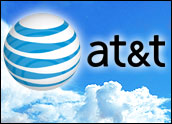 AT&T announced new wireless data pricing Wednesday that will give customers more data per month, but at a higher price.
The telecom's lowest tier for wireless data use, previously US$15 for 200 megabytes of data, will jump to 300 megabytes for $20. The 2 GB plan for $25 will now be $30 for 3 GB, and its highest tier, which also includes mobile hotspot capabilities, will be $50 for 5 GB.
Tablets are in on the new pricing as well. Data used to start at 2 GB for $25, and will now be 3 GB for $30. A high-end plan will also be 5 GB for $50.
Existing customers will be allowed to keep their current plans. Overage charges will also be the same. For new customers, the pricing and data changes will start taking effect on Sunday.
AT&T didn't respond to our requests for comment.
Can't Keep Up
AT&T was the first major U.S. carrier to announce a tiered data plan when smartphone usage started surging. Since then, most major networks have followed suit in response to growing data usage.
"With the utilization of the networks, data growth has been on average 30 percent a year, and when you compile that with network growth plus the move from feature phone to smartphone, all of a sudden data usage is through the roof, without any sort of offset in revenue. The nature of the data is also much more latency-sensitive information, such as video streaming, and that changes how you run the network," Ben Abramovitz, analyst at Kaufman Bros., told the E-Commerce Times.
Verizon now offers 5 GB and 10 GB mobile data plans, and it has since run promotions offering users to double those limits. However, network expansion can be a costly endeavor.
"AT&T is not alone in terms of price increases. In 2012, we're going to see more of these being pushed through, and traditionally in the first quarter is when telecom providers look to raise prices. In 2012, we're going to see more of this, because networks are getting filled up," said Abramovitz.
Burdened networks and a desire for more spectrum was one of the main reasons AT&T cited for its push to buy T-Mobile, which would have combined the second and fourth-largest providers in the U.S. It was a move that critics lambasted as the creation of a duopoly, but AT&T repeated that it needed the extra spectrum and 4G capabilities T-Mobile could provide.
"Since they weren't able to close on the merger, they have to make some changes. They need to manage the network and network capacity, given the increase in data consumption, and putting price increases is going to rationalize some of that activity," Sergey Dluzhevskly, analyst at Gabelli & Company, told the E-Commerce Times.
How Does the Consumer Feel?
A price increase typically sends a few customers packing, but in this case, the increase also comes with more data, which could prevent overages .
"The carriers need to do a good job of educating the consumer," said Dluzhevskly. "At the end of the day, you want your customer to have a good experience, and in this case, for that to happen, AT&T needs to upgrade and expand the network. The company needs to strike the right balance between being competitive in terms of price but also having the resources to finance what the network needs, and that's what AT&T is trying to do here."
Since smartphones and tablets are replacing other means of communication, dedicated customers are beginning to understand that data and price increases are going to be part of the telecom territory going forward.
"Increasingly a wireless phone has become a utility, and not only a phone, but a primary Internet device, so the usage and revenue opportunities are shifting. But wireless has a finite limitation, so the only thing to do is raise prices," Abramovitz said.
"AT&T has probably done the math and thought if they lose some customers, that's OK, they'll be able to generate more customers and more revenue," he said. "The first guys that run away from AT&T to Sprint and Verizon, or anywhere else, probably are the customers you don't want anyway, because they're the high spectrum users that aren't profitable."