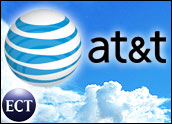 AT&T announced its new cloud computing service on Tuesday, dubbed "AT&T Synaptic Hosting." With the new offering, the telecommunications company joins Amazon, Google and IBM as a service provider in the nascent application hosting market.
The service is aimed at providing companies with greater flexibility, improved performance and cost savings by eliminating the need to maintain their own data centers, according to AT&T. It is part of the company's US$1 billion planned global network investment for 2008 and leverages technology acquired from AT&T's acquisition of USinternetworking (USi).
"'Synaptic Hosting' is AT&T's brand around their VMware-based managed hosting platform. It is to a large extent a repackaging and rebranding of the virtualization capabilities they acquired when they bought USi," Daryl Plummer, an analyst at Gartner, told the E-Commerce Times.
"It's a nice platform, and it's what we expect out of a strong competitor in the hosting space, but it is neither first to market, nor exceptionally innovative. It is simply a competitive offering," he added.
The U.S. Olympic Committee (USOC) was among the first organizations to sign up for AT&T's Synaptic Hosting. The service powers the USOC's official Web site, Teamusa.org, and other Olympics-related Web sites.
Mostly Cloudy
Central to AT&T Synaptic Hosting is the company's next-generation utility computing platform. This technology enables the service to provide a hosting solution with features using the AT&T network to manage applications, compute resources on servers and store data.
In addition, the service offers a selection of dynamic storage and security features as well as application monitoring and reporting capabilities that work with most client software.
AT&T gained five "super IDCs" (Internet data centers) located in the U.S., Europe and Asia when it purchased Usi, which will function in combination with 38 IDCs that are part of its global Internet protocol (IP) network. The super IDCs will be located in Piscataway, N.J.; San Diego; Annapolic, Md.; Singapore and the Netherlands. They will serve as regional gateways to the AT&T network and will also support large-scale computing and applications on demand via virtualized servers. They will also deliver services across AT&T's IDC hosting infrastructure. cloud platform can scale arbitrarily with self-provisioning and provisioning intervals measured in minutes — just long enough for a data copy," Plummer explained.
On Target
According to Plummer, The announcement is right in line with where Plummer sees the market going at the moment, he said.
"Many companies see the cloud as a place to host infrastructure utilities. We see the cloud as a broader representation of the need to deliver services to individuals and companies over the Internet; this will include infrastructure as a core necessity," he stated.
This announcement, according to Plummer, comes at a time when AT&T can leverage the Olympics, which is always an event that involves some kind of technology play for a vendor. AT&T can illustrate the hybrid nature of cloud computing by saying it can support elastic demand without having to have elastic pricing. Companies that use a compute cloud pay for use and not for servers, Plummer explained.
"This is key. AT&T has the challenge of actually delivering service well. It is one thing for a telecommunications provider to deliver voice or data but quite another to deliver infrastructure services to those used to relying on data centers. AT&T's Internet Data Centers are also right in line with what others are doing on this front, and we expect this trend to continue," he said.
Clouds Gathering
With Synaptic Hosting, AT&T joins a rapidly expanding market for cloud computing, with Amazon, Google and IBM having already marked off their territory.
"We're still somewhere between the bleeding edge and early adopter market adoption stage. It will take years for developers to move mainstream custom application development to these on-demand, highly virtualized architectures," Jeffrey Hammond, a Forrester Research analyst, told the E-Commerce Times.
Over the course of the next few years, the industry will see an explosion of infrastructure utilities raining down from the cloud, Plummer predicted.
"AT&T, like many telcos, must find a way to remain relevant to customers and to expend its relevancy to businesses as the Internet and use of Internet-delivered services — like IPTV (Internet protocol TV) and VoIP (voice over Internet protocol) — continue to erode telco uniqueness. In order to prevent themselves from just becoming the 'pipe' through which everyone travels, they have to up the ante," he said.
Amazon, he noted, has done well at moving above the hardware into specific application services like S3 and EC2, which developers can directly work with via well-defined application programming interfaces.
"Google App Engine is similar in concept. What I think we're actually seeing is a move toward Web-centric application platforms, which will make providing addressable services to developers a key to success. This is where I think Amazon and Google have an early edge," Hammond said.
While it's offering is similar to the other services, AT&T may have "bitten off more than it can chew in this circumstance," Plummer said.
"They have relatively little experience at being the data center provider of enterprise services. IBM and HP have much more experience here. Witness Amazon's struggles recently with outages. In their case, they do not offer the same level of guarantees that a data center would internally, so people are having to figure out what they can rely on and what they can't. The hybrid model of cloud computing, where some things are on-site and some are in the cloud, will become important this year and next," he concluded.