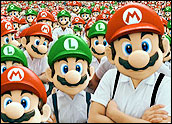 Nintendo's dominance of the console gaming market continued in December, according to sales figures collected by the NPD Group. The Wii set a new monthly record as consumers picked up some 2.15 million consoles in December alone. The good news continued for Nintendo; its portable gaming platform, the DS, also set a one-month sales record with more than 3 million units moving off of store shelves.
"The [Nintendo DS] captures the top spot for hardware sales this month, marking the first time that any hardware system has sold in excess of 3 million units in any single month. The record for single-month console system sales still belongs to the [PlayStation 2] which sold 2.7 million units in December 2002," noted Anita Frazier, an NPD industry analyst.
The Wii was not the only winner in the last month of 2008. Both Microsoft's Xbox 360 and Sony's PlayStation 3 saw sales increase, selling 1.44 million and 726,000 units, respectively.
December came in as the first time that revenue for the video game console industry surpassed US$5 billion in any single month. To put the monthly total into perspective, sales for the entire year of 1997 were $5.1 billion.
It Was a Very Good Year
Gaming racked in a whopping US$21.33 billion in 2008, a 19 percent increase over the $17.97 billion earned in 2007. Gains were made across all segments of the market. Hardware increased 11 percent to $7.81 billion. Software sales grew, jumping 26 percent to $10.96 billion. Accessories, which had brought in $2.25 billion in 2007, saw growth of 14 percent, reaching $2.57 billion in 2008.
"Taking a look at the big picture, it's good news that the industry is showing some strong growth. What we can put this down to is that [the market] came out of the gate extremely strongly at the start of the year. The growth in the first three quarters was more significant than that in the fourth quarter, when things started to slow down," Paul Jackson, an analyst at Forrester Research, told the E-Commerce Times.
Games played a significant role in the industry's fortunes. Nintendo took the top four spots for annual sales with "Wii Play w/Remote," which sold 5.28 million units in 2008; "Mario Kart w/Wheel" with 5 million units sold; "Wii Fit w/Balance Board" with 4.53 million sold and "Super Smash Bros: Brawl" selling 4.17 million copies.
Other big sellers in 2008 included "Grand Theft Auto IV" ("GTA IV") for the Xbox 360, selling 3.29 million units; "Call of Duty: World at War" for the 360 with 2.75 million sold; and "Gears of War 2" for the 360 which sold 2.31 million units. The only top 10 selling game for the PS3 was its version of "GTA IV."
"We had 'GTA IV,' 'Metal Gear Solid 4,' 'Fallout 3,' 'Gears of War 2,' 'Guitar Hero World Tour,' 'Mario Kart,' 'Wii Fit,' 'Super Smash Bros. Brawl' and 'Call of Duty: World at War' released during the year, and all were phenomenally successful. In addition, there was a 'World of Warcraft' expansion pack, 'Spore,' 'Dead Space,' 'Mercenaries,' 'WWE,' 'Kung Fu Panda,' 'Far Cry,' 'Prince of Persia,' 'Mortal Combat vs. DC Universe,' all very successful. In fact, this may have been the biggest year in history for blockbuster games," Michael Pachter, a Wedbush Morgan analyst, told the E-Commerce Times.
Uncertain Economic Times
As the global economic recession continues into 2009, the gaming industry could continue to see growth, although perhaps not as great as in 2008.
"Continued growth is expected, but we're going to remain cautious," Stephanie Ethier, an InStat analyst, told the E-Commerce Times.
On the one hand, gaming is one of those areas that plays into a strong home entertainment space and is more protected from the massive cutbacks people will make in dining out and other avenues of entertainment. Whether it's console gaming or online, game makers have a dedicated audience of people that will spend money on it regardless. Those are the upsides, said Forrester's Jackson.
"On the downside you're seeing a lot of pressure on retailers. And as with any product that takes two to three years to develop, you're seeing a cash flow problem with publishers. You'll see a lot of studios folding, cutting back and rationing on the number of titles. Gaming may be recession-resistant, but it catches a cold from retail and the lack of funding, with banks calling in their loans and that sort of stuff. Without a shadow of doubt you can't expect the same growth this year as you saw last year. 2008 was an exceptional year, and events are conspiring to make 2009 more challenging," Jackson explained.
Hardware sales may be down, said Pachter, but software sales should grow by double digits — somewhere between 10 percent and 20 percent.
"I think that the PS3 will cut prices some time during the year — no sooner than April — and will cut by at least $50, and more likely to be $100 as soon as they can afford it. Microsoft will cut the Xbox 360 price if Sony cuts the PS3, more likely by only $50," he predicted.
"Nintendo won't cut Wii pricing until demand begins to slow, and that may not occur in 2009. They will likely cut the DS to $99 when the DSi is launched some time in the first half of the year. I don't know about the PSP but would guess it comes down to $149 some time during the year," he continued.
Adding to the industry's hopeful outlook for 2009 are the release of titles like "Resident Evil 5," "Killzone 2" and "Splinter Cell Conviction," all of which should help move PS3s and Xbox 360s, add Pachter.
"'LittleBigPlanet' didn't really sell well in its first two weeks, but it seems to have a long tail and could be a slow burner for Sony. You'll see a raft of sequels," Jackson noted. Sequels are generally cheaper to produce and consistently draw sales, he said.