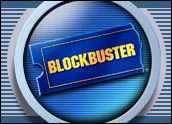 Movie rental giant Blockbuster announced Tuesday it has teamed with hardware maker 2Wire to launch a content delivery service on the 2Wire MediaPoint digital media player. The set-top box will provide users with direct access to Blockbuster OnDemand content via their televisions.
The small set-top box works with either WiFi or a wired broadband connection. It features outputs for composite cable, HDMI, component cable and Toslink. Once connected to the Web, the set-top box will quickly download movies the user selects, said Jim Keyes, Blockbuster chairman and chief executive officer.
"Technology is allowing more convenient access to entertainment in many ways. It is perfectly natural for Blockbuster to evolve again, and we have one more time transformed ourselves and our brand to Blockbuster OnDemand to provide the highest level of convenience now; access to movies from the comfort of your living room," he told the E-Commerce Times.
"In the average household, faster than it takes to pop your popcorn, your movie will be ready," Keyes continued.
Movie Rentals Straight to the TV
For now, the MediaPoint digital media player with Blockbuster OnDemand is available at no cost when consumers purchase an initial block of 25 rentals for US$99. The videos will be available for viewing for up to 30 days, but once users start to watch a movie, it will only be open for viewing for 24 hours.
Additional rentals are priced between $1.99 and $3.99 each.
The unit includes fast-forward, rewind and pause capabilities, and Blockbuster said the content quality is on par with that of a DVD, regardless of the speed of the user's broadband connection. In addition, users with a wireless home network will be able to watch videos on WiFi-connected desktops and laptops.
The boxes are expected to begin shipping in December, but no exact date was given.
From Netflix's Shadow
The 2Wire device and the rental system Blockbuster has built around it somewhat resemble AppleTV, a system which also downloads video content on a pay-per-view basis and delivers it to the viewer's television. However, Blockbuster's set-top box may be aimed at a different rival — one that's taken a significant bite out of its business by distributing through the mail and the Web rather than physical stores.
Blockbuster's deal with 2Wire deal follows a little more than six months after rival Netflix announced a similar partnership with hardware maker Roku. The Netflix Player allows subscribers to the mail-order DVD rental site to instantly stream movies to their TVs. Although Roku has not released any sales numbers, the company has said that sales of the device have been stronger than expected.
"[Blockbuster is thinking about competing with Netflix. But how in the world do you compete with a company that is on such a roll as Netflix has been?" Joshua Martin, a Yankee Group analyst, told the E-Commerce Times.
Blockbuster has to contend with its legacy of being dominant in a different era, which is baggage that Netflix never had to deal with, he added.
Streaming vs. Progressive Download
A major differentiator in the MediaPoint device, according to Keyes, is its progressive download technology.
"You might have heard a lot about streaming capabilities. We think progressive download is a higher form of streaming, for the following reason: It really comes down to quality. The reality is that even if a home has sufficient bandwidth, streaming requires always-on connectivity. Download needs only a one-time connection," he explained.
In addition, if users do not have pure continuity and strength of bandwidth, the viewing experience could be everything from a snowy screen to interrupted playback, he said. The difference with progressive download is the quick time frame in which the movie is ready to watch, as well as the fact that it will play back uninterrupted in DVD quality, Keyes pointed out.
"And another key point of differentiation is titles. We are going after quality versus quantity. Other services advertise 20,000 titles. About 80 percent of our in-store business is new releases, and we expect the same demand online. So we have the newest videos available through OnDemand. 'Dark Knight,' for example, will be available via OnDemand. Competing subscription-based services typically have to wait two to three years before a movie like 'Dark Knight' is available," he noted.