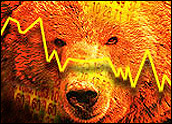 Despite a stellar holiday season and the sale of its 10 millionth Wii video game console, Nintendo has taken a bearish view on the future as the global economic crisis continues to deepen.
The hardware maker revised its profit forecasts for the fiscal year ending next March, lowering it by 33 percent from its October 2008 prediction. That revised prediction would mark the first time in five years that Nintendo's annual profits suffer a decline. When the fiscal year wraps, Nintendo said it expects to report net income of 230 billion yen (US$2.6 billion).
Reporting on its third fiscal quarter Thursday, Nintendo disclosed its net income dropped 46 percent to 67.7 billion yen (US$746.7 million) for the period ending Dec. 31. Sales, on the other hand, increased 13 percent to 699.5 billion yen (US$7.8 billion).
Hard Times All Over
With 10.2 million Wii consoles sold in the U.S. since its release in 2006 — 2 million more than rival Xbox 360 — what has changed in the past four months to sour Nintendo's outlook?
Two factors have turned the video game maker bearish, said Michael Pachter, a Wedbush Morgan analyst.
"First, the yen appreciated dramatically against the dollar and euro, so any sales that they generate in the U.S. or Europe converts into fewer yen, making their profits lower," he told the E-Commerce Times. "The yen's appreciation also had the effect of triggering a loss on their U.S. and European bank deposits — same math. The loss they expect is 200 billion yen, compared to something well under 100 billion yen expected only three months ago. Translation loss through six months was 33 billion yen, while translation loss through nine months was 174 billion yen."
The second thing, according to Pachter, was the response of the Japanese consumer to the global economic recession.
"The Japanese customer rolled over. Nintendo should have seen this coming, but clearly they were surprised at the magnitude of the decline in demand for both hardware and software in Japan. Part of this decline was offset by more robust sales in the U.S. and Europe, but it still impacted earnings."
Stock Reverberations
The lower profit estimates probably won't impact future sales, Pachter said; however, it will likely hit the stock by 10 percent or so.
Overall, Pachter said, the industry will be up 13 percent in the U.S. and Europe and up 1 percent in Japan in for the calendar year of 2009.
"Nintendo sales will be down as they will likely sell less hardware in 2009, but their profits should be up dramatically," he concluded.