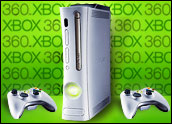 Microsoft announced Monday that 2008 was the best year ever for its Xbox 360 video game system, despite a year-long U.S. recession that has seen consumer spending plummet.
The company's worldwide lead over rival Sony's PlayStation 3 widened by 8 million units in 2008, while its total number of 360s sold since the device hit the market three years ago expanded to 28 million.
Xbox Live, which allows gamers to play one another over the Internet, claimed more than 17 million members in 2008, and online consumer spending on the service grew by more than 84 percent. Since the console's launch, more than US$1 billion has been spent on Xbox Live services, Microsoft said.
Microsoft's stock was up 1.75 percent to $20.89 per share in late-day trading on Tuesday.
Nintendo Still Leads
Nintendo still owns a sizable lead in the console market, according to VG Chartz.com, a site that tracks video game console sell-throughs and software. The site's most recent numbers show Nintendo has sold 45.6 million Wii units, while Microsoft has sold 27.2 Xbox 360s and Sony has sold 19.3 million PS3 consoles.
Even with its year-end 2008 numbers in place, Microsoft's 28 million 360s is well short of displacing the Wii as the no. 1 console.
Broad User Base
The more users a console attracts, the more appealing it is to content providers such as game publishers and online content services like Netflix.
"Obviously, Microsoft has to continue to sell more 360s, because any publisher or TV studio will want to know how many consumers they can reach," Ben Bajarin, director of the consumer technology practice at Creative Strategies Group, told the E-Commerce Times.
Microsoft already has one deal in place that enables 360 owners to stream content from Netflix's library of movies and TV shows with just a touch of the button.
Microsoft is far ahead of Nintendo and Sony in terms of content services like Netflix, according to Van Baker, a Gartner analyst.
"Nintendo has a minimal amount of streaming content," he told the E-Commerce Times. "The Wii doesn't have any storage, so it's not really designed to do that. Sony has the PlayStation Network and has a reasonable selection of movies, but it's well behind what Xbox 360 offers."
Microsoft is trying to turn the 360 into a media hub in the home and expand its audience beyond gamers by inking deals with content providers like Netflix. Doing so squeezes more revenue out of the console and also increases its lifecycle, Baker said.
The importance of content services will only grow as time goes on, noted Creative Strategies' Bajarin.
Demand for access to social networking sites such as Facebook, MySpace, Twitter and Flickr via video game consoles will expand in 2009 and beyond, he predicted.
Fight Isn't Over
Sony and Nintendo may lag Microsoft in terms of providing consumers with content services, but that could change quickly.
For one thing, Nintendo has been making money off the Wii since it was first released. It could easily pour those profits back into the console and bolster its storage, streaming capabilities, processing power and graphics resolution, Baker said.
At the same time, Sony may not remain in third place for very long in the video game and content businesses.
"Remember, back one console generation, the PS2 was unassailable," Baker said. "Now, Microsoft and Nintendo are basically vying for the No. 1 spot and Sony is a distant third. Market conditions can change very quickly in this business."