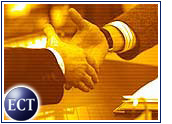 Moving even further into the e-business arena, telecommunications giant AT&T Corp. (NYSE: T) announced Tuesday that it has inked a US$450 million, multi-year Web hosting deal with IBM Corp. (NYSE: IBM).
IBM will contract for up to several hundred thousand square feet of Internet hosting facilities in AT&T's Internet Data Centers.
IBM Global Services will use AT&T's networking capabilities to establish several new e-business hosting centers.
Big Blue plans to begin operations by the end of the year at AT&T's data centers in New York City, Chicago, Illinois and Phoenix, Arizona, the companies said.
IBM also plans to move into six additional AT&T centers by the third quarter of 2001.
Meeting of Minds
AT&T Business Services president Rick Roscitt said that it was the telecom's IP network and Internet data center infrastructure that brought IBM to AT&T's door.
Now that IBM has AT&T's network and infrastructure at hand, the company intends to target several types of customers for its Internet data centers, including large companies setting up businesses on the Web, dot-com companies, e-marketplaces and application service providers (ASPs).
IBM senior vice president Doug Elix said, "This agreement will strengthen IBM's ability to meet customers' e-sourcing needs, including basic co-location, fully outsourced Web hosting, and everything in between."
Small Biz Services
AT&T and IBM also plan to join forces to bundle and market Web hosting solutions, including providing streaming media to Web sites owned by small and mid-sized businesses.
AT&T will incorporate IBM's Netfinity Web servers into the new streaming media hosting service, which already includes the Linux operating system and Real Server Plus streaming media software from Real Networks.
As part of the deal, AT&T has also agreed to provide IBM customers with managed Internet access through AT&T's existing alliances. AT&T will offer service level agreements to IBM, including guarantees on its IP network and on the availability of its Internet data center service. Based on AT&T's guarantees, IBM will further extend service level agreements to its own customers.
AOL Wireless Deal
Also on Tuesday, America Online (AOL) (NYSE:AOL) unveiled a suite of mobile services it is delivering to AT&T's wireless Net-ready phones.
The services will allow AT&T users to access such AOL features as e-mail, news, weather reports and stock quotes.