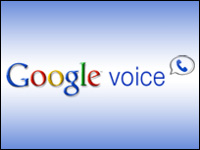 The net neutrality debate has officially taken a left turn into weirdness, following weekend revelations that AT&T has asked the Federal Communications Commission to investigate the Google Voice application as a potential violation of open communications policies.
This would be the same AT&T that just last week argued against the need for making the FCC's current Net neutrality principles apply to wireless providers. This came after new FCC chair Julius Genachowski announced he would begin the process of codifying those principles as official regulations overseeing wired and wireless networks.
However, in a letter sent to the FCC late Friday from AT&T's senior vice president Robert W. Quinn, the company requested an investigation of Google Voice phone management software, saying it blocks calls to certain rural exchanges. That, Quinn argues, is discrimination, something net neutrality prohibits.
"This vision is apparently not shared by one of the most noisome trumpeters of so-called 'net neutrality' regulation, Google, at last when it comes to its own services," Quinnn wrote. "The Commission cannot, through inaction or otherwise, give Google a special privilege to play by its own rules while the rest of the industry, including those who compete with Google, must instead adhere to Commission regulations. We urge the Commission to level the playing field and order Google to play by the same rules as its competitors."
AT&T spokesman Michael Balmoris sent the E-Commerce Times a copy of the company's letter to the FCC.
Why Google Voice Allows Blocking
"Our official response is that we have received the letter and are reviewing it," FCC spokesperson Jen Howard told the E-Commerce Times. "We don't have anything additional to say at this point."
Google spokesperson Sara Jew-Lim referred the E-Commerce Times to a Google Public Policy blog post dated late Friday from company telecom and media counsel Richard Whitt. In the post, Whitt acknowledges that Google blocks some outbound calls to certain rural areas because of exorbitant rates charged to long-distance companies — such as AT&T — for connecting to those regional networks.
"Sometimes these local carriers partner and share revenue with adult chat services, conference calling centers, party lines, and others that are able to attract lots of incoming phone calls to their networks," Whitt wrote. "We agree with AT&T that the current carrier compensation system is badly flawed, and that the single best answer is for the FCC to take the necessary steps to fix it."
However, the agreement ends there. Whitt says Google Voice is a free, invitation-only, Web-based software application that sits on top of an existing wired or wireless phone number, and therefore is not subject to net neutrality guidelines, which were written to enforce equal broadband access. "AT&T is trying to make this about Google's support for an open Internet, but the comparison just doesn't fly," Whitt said. "The FCC's open Internet principles apply only to the behavior of broadband carriers — not the creators of Web-based software applications. Even though the FCC does not have jurisdiction over how software applications function, AT&T apparently wants to use the regulatory process to undermine Web-based competition and innovation."
Trying to Muzzle Google Voice
To the cynical, AT&T's move might seem like an extension of the company's fight with Google over a Google Voice app that Apple has not opted to allow on its iPhone App Store. The FCC is looking into why Apple made that decision, and AT&T — the carrier for the iPhone — has denied having any influence in the matter. Apple and Google say they are still in negotiations regarding the app.
Google Voice offers the same types of unified communications features to consumers and small businesses that enterprises can currently offer to their employees. Voice assigns users one phone number; home, office and mobile numbers get routed to that Voice number, and settings can be employed to help manage the calls. Voicemail can be listened to via phone or online, and can also be transcribed.
How many people are affected by this fight between Google and AT&T? "We actually don't have public metrics for Voice users right now, since Google Voice is only available by invitation," Jew-Lim said. Anyone can sign up to request a Google Voice account, she said, and Google is sending out invitations to that waiting list on a first come, first served basis.