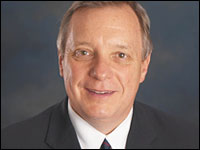 U.S. Sen. Dick Durbin wants to know if Google's current dustup with China has the potential to create more cracks in that country's Great Firewall. So late Tuesday, the Illinois Democrat sent letters to 30 top technology companies — including Apple, Facebook, Cisco, Verizon and Amazon — asking them to attend a new round of congressional hearings next month focusing on their current business relationships with China and other "Internet-restricting countries."
Durbin, chairman of the Judiciary Subcommittee on Human Rights and the Law, is pursuing similar tactics he used in 2008 and 2009 when he asked Google and Yahoo to re-examine their dealings with China, long criticized for human rights violations and Internet censorship. However, Durbin also appears to be building on an Obama administration strategy, highlighted two weeks ago in a speech by U.S. Secretary of State Hillary Clinton, who coined the term "Information Curtain" to describe "Iron Curtain"-era restrictions on Web use in China and other countries.
China and Google are at their current impasse over revelations that the company was the victim of a cyberattack with likely origins in China. As a result, Google has said it may no longer cooperate with Chinese authorities regarding censorship of Internet searches and will consider pulling all its operations out of the communist country.
Following Google's Lead?
"I commend Google for coming to the conclusion that cooperating with the 'Great Firewall' of China is inconsistent with their human rights responsibilities," Durbin said. "Google sets a strong example in standing up to the Chinese government's continued failure to respect the fundamental human rights of free expression and privacy. I look forward to learning more about whether other American companies are willing to follow Google's lead."
Durbin's list of invitees is a wide range of U.S. and internationally based tech firms, some of which did not respond to his 2009 letter asking them to support the Global Network Initiative, a voluntary code of conduct for dealing with authoritarian regimes. Google, Yahoo and Microsoft are among companies that have signed on to the GNI.
"We plan on responding to Sen. Durbin in a timely fashion and look forward to sharing our thoughts with the committee," Facebook spokesperson Andrew Noyes told the E-Commerce Times, though he did not provide details regarding the company's China business policies. [*Editor's note – Feb. 3, 2010]
A New Approach to China
Last year's 20th anniversary of the Tiananmen Square Massacre and the 60th anniversary of modern China's founding have prompted fresh crackdowns on human rights and free expression within the country, according to Cynthia Wong with the Center for Democracy and Technology. "The one thing that Google's case has brought to light is that this is not a static situation," Wong told the E-Commerce Times. "Clearly, the environment for human rights in China has changed in the past year, and we need to ask businesses, 'How are you adjusting your business operations to take those changes into account?' The China incident with Google and Google's decision to take a stand are wake-up calls. Companies need to demonstrate that they are taking this seriously and putting together credible and ethical business systems in place that can address these risks."
However, any kind of legislative restrictions on business practices with China can be counterproductive, warned Ryan Radia, tech policy expert with the Competitive Enterprise Institute. "Limiting the freedom of U.S. tech companies to interact with China is a mistake and would be harmful not only to the interests of the companies involved, but also to that country's citizens," Radia told the E-Commerce Times. Engagement with China and allowing customers to access its Web services can help bring about the kinds of changes Durbin and others want to see.
"I do think we should be concerned about China, but punishing companies and limiting them from making these decisions themselves would be the wrong path," he said. "The idea that U.S. companies just want to make a quick buck from China is not true. American businesses do think about this, and Google is a good example. But it's a decision that ultimately should not be made in Washington, D.C."
---
*ECT News Network editor's note – Feb. 3, 2010:
Our original publication of this story included the following statement: "Executives from Facebook will show up in Washington next month for the hearings, according to spokesperson Andrew Noyes." Andrew Noyes contacted the E-Commerce Times on Feb. 3 and told us, "We plan on responding to Sen. Durbin in a timely fashion and look forward to sharing our thoughts with the committee. … I cannot comment on whether or not we will testify."