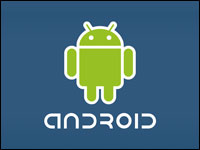 Turn on an Android OS phone, and that little yellow robot pops up all over the touchscreen like R2D2 on bionic steroids. A mini-chorus line of them shows up first, then just one robot decides to play hide and seek with you; there he is peeking out from the left side of the screen. Now he's upside down, waving at you with a tiny cyber-arm.
The impression is that this Android sure gets around, and it must have seemed that way to consumers doing their smartphone shopping from January through March of this year, if NPD Group's data is any indication. A wealth of Android OS options from different handset and carrier partners helped Google's smartphone operating system shoot to No.2 in sales rankings with 28 percent of unit sales, leapfrogging Apple's iPhone OS at 21 percent, but still behind Research In Motion's Blackberry OS, which continues to lead with 36 percent of the market.
The market research firm's Q1 unit sales numbers were thoroughly dissected in the technosophere, serving as digital tea leaves for observers looking for guidance into what could be a summer of surprises in the smartphone arena. New entries are expected from Apple and RIM, but strong initial showings from the Android-powered HTC Incredible and the entry of the Evo should keep Google in the game and heat up this business segment as the temperatures start soaring outside.
However, the fragmentation in the market and the vagaries of the application development space raise the question: Do strong unit sales mean strong revenue streams? If Apple = closed system and Google = open source, what's the formula for finding competitive success in the rapidly growing smartphone space?
Do Unit Sales Matter?
It might seem like basic math to credit more Android devices available in a wider range of venues for the OS's strong Q1. However, Chris Hazelton, research director of the 451 Group, says more choices and partners means more sharing of the financial pie. "They may have more phones out there than, say, iPhone, but that doesn't necessarily translate to more benefits because it's diluted," Hazelton told the E-Commerce Times. "There are too many flavors, too many players. While Google is offering more market share, it doesn't see iPhone kind of gains in margins or revenue, and definitely not those for BlackBerry. These (NPD) numbers don't include enterprise sales, so RIM's numbers are likely higher."
Apple makes its own phones and only shares with one carrier, AT&T, in the U.S, he added.
However, the continuing development of an application developer ecosystem around Android could help balance things out, said ABI Research senior analyst Michael Morgan. "Obviously you want to have the biggest user base possible. That's not the entire story, obviously — you want to have the opportunity to make some money as well." Yet as weird as it sounds, it's not just about the money, Morgan told the E-Commerce Times. "The more important factor is the ecosystem that drives people to the platform, and of course the perceived value of the handset or OS through the large amount of apps and development activity around it. What drives app developing platforms is the embedded user base — how many shipments are being pumped into the system and how many people are sticking around."And now that Android can claim 50,000 apps in the Android Marketplace, "that's kind of like Apple. Not quite, but kind of," Morgan told the E-Commerce Times.
Unit Sales = Online Ad potential?
Both Apple and Google have announced their intentions to expand their battle for smartphone dominance into the mobile advertising space. Ads and web searches are Google's bread and butter, but Apple is launching iAd — depending, of course, on the scrutiny of the Federal Trade Commission. Can unit sales and market share give either company an advantage in this sector?
Perhaps, but the carriers now want a piece of this action through the advent of the Wholesale Application Community, a non-profit consortium of the world's major telecom operators (and a handful of handset makers) designed to make things easier for app development. However, Hazelton said this bears watching because "it essentially inserts the carrier into this (ad) market. Right now with the iPhone and Blackberry, you have the device vendor and the developer and they share revenue whether it's paid or ad-based. But with WAC, the carrier is now in that space. So who's share is going to be pinched? Most of the pressure is likely to be on the developers' share, so it's only going to get harder."
Pressure on AT&T Exclusivity
An iPhone available via multiple U.S. carriers remains the dream for many considering a smartphone purchase. For that matter, recent surveys show Verizon customers would trade in their current handset, no matter if they just bought it yesterday, for an iPhone running on that carrier's network. It's yet another chink in the exclusivity contract-armor shielding Apple and AT&T.
How long can that armor last? The tech blog Engadget recently unearthed court documents indicating that Apple originally signed a five-year exclusivity agreement with AT&T in 2007, meaning iPhones may be going steady with that carrier (at least in the U.S.) until 2012. Then again, it's not hard to imagine such a deal may have been renegotiated numerous times behind closed doors.
Apple, Morgan pointed out, has the multiple-carrier option in other parts of the world, and besides much-written-about network issues with AT&T, the company probably has few regrets getting in bed with the carrier. "Sooner or later it's going to happen in the U.S.," he said. "Exclusivity is not going to last forever. In the meantime, Apple can milk it for all its worth."
That includes the control it gives Steve Jobs' company with app development and other aspects of the smartphone market. Yet despite all the accolades for Google, Android and the rise of open source, Morgan is troubled by reports that some top smartphone manufacturers want to build their own operating systems. "That control that Apple has? I have a feeling that the other guys are getting to be a little bit envious of that. They want to have control over their own smartphone experience that they bring to market."