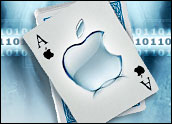 I haven't even had the chance to lay one finger on an Apple iPad yet, and it's already reached out and touched me — or rather, touched a new business opportunity.
Full disclosure: as of last month, I became the host/managing editor for spark360.tv, a Web-based business television program. We produce network news-style stories on small/medium-sizes businesses and then broadcast them via a unique distribution model of branded Web video and social media portals. I have promised ECT News that there will be no conflicts of interest — that is, I won't report on companies that are spark360 clients. The only reason I'm mentioning it here is because of the email I got Monday from Chris Kraft, president and founder of Splash Media, spark360's parent company.
Kraft invited me to an iChat on our Macs, and he showed me an iPad running the spark360 logo. It was one of four he is giving to spark360 segment producers when they make calls on companies that have shown an interest in being featured on the program. It was tricked out with everything those companies needed to see to make their decision — video, slides and text.
"The primary app is Keynote," Apple's presentation software, Kraft told me. "We produce the Keynote presentation on a Mac and then sync it to the iPads via iTunes. Simple and easy. Worked the first time. The only thing we had to do was make a few tweaks for transitions that were not supported on the iPad."
The discussion so far about the iPad — a discussion that has officially engulfed the mainstream media and leaped the shark tank to include appearances on David Letterman and Jimmy Fallon's late-night shows — has focused on the potential for joining media-hungry consumers as a third screen on their couches as they surf the Web or watch videos. But is there also a place for Steve Jobs' latest sensation in corporate boardrooms, small business working lunches and on business trips?
iPad as Small Business Investment
Kevin Lisota, CEO of Findwell.com, a small Seattle-based online real estate brokerage, is waiting for the US$629 3G iPad to come out in the next few weeks. When that happens, he will buy everyone on his five-person team what he hopes will be an investment in boosted efficiency and service for clients.
"I carry my iPhone in one hand and a stack of papers in the other with details on other listings," Lisota told the E-Commerce Times. "What I'd really like to do is replace that stack of papers with an iPad and also provide some interactivity for the clients as we're touring homes. They can see information online — I can look up listings or data. I think having that tablet-style form factor to share with people that you're with will be hugely favorable."
Lisota initially wanted an iPhone to take advantage of the Zillow app, developed by the online real estate listing company to take advantage of the phone's connectivity and GPS features for mapping and photos. But when it comes to other sources of data, "a lot of Web sites don't render that well on a small screen," Lisota said,"and carrying a laptop to do that is totally impractical."
Because of his status as a small business owner, Lisota has to consider not only the price of buying five higher-priced iPads, but also the cost of data plans for each — they can range from $15 to $30 for each device. Still, he's excited about the prospects.
"Anything that can make us look more professional and in tune with the data while out in the field is definitely worth the investment for us," Lisota said. "I'm curious to see what new apps get developed for it. A lot of people right now are repurposing iPhone-style ideas. I'll give it six to 12 months to see what the ecosystem of apps looks like."
iPads in the Workplace Depend on the Workplace
Scott Steinberg, founder of technology research and consulting firm TechSavvyGlobal, told the E-Commerce Times that he envisions a role for iPads in the SMB world, despite the lack of a camera for video conferencing.
"It's a beautiful piece of tech that takes advantage of virtualized solutions, CRM, invoicing, as well as the fact that it makes a tremendous device for demonstrating Internet applications — ones that aren't based on Flash — or presentation materials in the form of videos and online services," he said.
That will depend on whether or not this first-generation iPad is enough of a proof-of-concept success to support webcams and more outlets for peripherals in succeeding generations, Steinberg added, as well as more developer support for work-friendly apps.
"Productivity apps are very impressive and more services are moving toward the cloud, but we're still in an age where these features are in their infancy. They have yet to fully mature to become comprehensive solutions for businesses of all sizes," he pointed out.
Most of those businesses are still locked into Windows-based productivity and office software, noted IDC analyst Richard Shim.
"I think the real challenge is going to be on the back-end of the device, because so far all these examples — showing videos, presentations, charts — are those things you can do on a general purpose device," Shim told the E-Commerce Times. "But on the back end, it will require proprietary software that's available on a device based on the Apple operating system, which we know hasn't penetrated as well as Windows has in the corporate world."