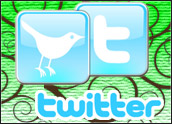 After months of questions about how Twitter plans on making money, the short message service and social media phenomenon on Tuesday launched its first foray into advertising. However, in doing so, the company made it clear that traditional corporate interests would take a back seat to overall customer happiness.
After all, how attractive would the Twitter tree be to companies if all those tweeting, non-paying birds flew away?
"Stubborn insistence on a slow and thoughtful approach to monetization — one which puts users first, amplifies existing value, and generates profit has frustrated some Twitter watchers," wrote cofounder Biz Stone on the Twitter Blog. "Believe me, when your name is Biz and you're a cofounder of Twitter, it also means putting yourself at the mercy of folks like Stephen Colbert who hit home runs with lines like, 'So, I assume that 'Biz' in 'Biz Stone' does not stand for 'Business Model.'"
Promoted Tweets is the result of that careful consideration and an attempt to silence wiseguys like Colbert once and for all. The messages are regular tweets that businesses and groups want viewed by the largest audience possible on Twitter. Like paid search results on Google, the companies are giving Twitter money to have their promoted tweets associated with keywords and appear at the top of a search results page. For example, a search for "coffee" returns a page that begins with a promoted tweet from Starbucks — one of several companies partnering with Twitter for the launch — that links to a pic of the Seattle company's coffee-bean tasting room. Other partners include Virgin Airlines, Sony Pictures and Red Bull.
Stone emphasized what he felt was the unobtrusive nature of Promoted Tweets. Only one will appear per page. "Since all Promoted Tweets are organic Tweets, there is not a single 'ad' in our Promoted Tweets platform that isn't already an organic part of Twitter. This is distinct from both traditional search advertising and more recent social advertising."
Companies also need to make sure their Promoted Tweets are worthy not just of the money spent, but customer interest. "Promoted Tweets must meet a higher bar — they must resonate with users. That means if users don't interact with a Promoted Tweet to allow us to know that the Promoted Tweet is resonating with them, such as replying to it, favoriting it, or retweeting it, the Promoted Tweet will disappear."
Setting a Twitter Precedent
Twitter did not respond to requests by press time from the E-Commerce Times for elaboration on how long the company will give Promoted Tweets to prove their "resonance" before they vanish.
Advertisers will have to make sure their tweets sing with the public, according to Shauna Causey, communications director of Social Media Club Seattle. "It's in the true spirit of social media," Causey told the E-Commerce Times. "If the crowd does not think it's interesting enough, then it's not going to be a good sponsored tweet, which is really what Twitter is all about — us figuring out what we want to see." Causey says the policy should also help avoid the kind of "get-a-million-followers-in-10-minutes" spamming that occasionally shows up on Twitter.
The policy points to a new world of advertising, metrics and measurement regarding the Web and social media. Print ads and TV commercials demand nothing more than passive viewing from consumers. Even clicking on a Web banner ad is a minimal use of a computer mouse — not to mention caloric output — by a Web surfer. Requiring a certain amount of user engagement for Promoted Tweets could set a precedent as more social media companies dip their toes in advertising waters, said IDC analyst Karsten Weide. "It's not dissimilar to how search engines promote better performing — i.e., more relevant — ads to the top. Consumers will see ads about things they care about, advertisers will get better ads, and Twitter will make money," Weide told the E-Commerce Times.
"It's kind of like voting them off the island," said Lon Safko, social media entrepreneur/consultant and coauthor of The Social Media Bible. "Imagine the value of advertising on television, radio, newspaper, and email if ads were automatically removed if we simply didn't like them or didn't respond."
Yet Stone emphasized in the company blog that Promoted Tweets are simply the first steps in an overall ad/monetization strategy that is still a work in progress. More details are expected as company executives give presentations this week at the AdAge Digital Conference and at Chirp, the company's first developer conference.
"[The ad strategy] will face a number of issues," Weide said. "The fact that a lot of traffic gets lost to third-party clients like TweetDeck, the questions of how many searches users really conduct, the question of how well ads will be separated from the normal tweet stream to be acceptable. But it's still early days and we will probably see a lot of experimentation on Twitter's part in the months to come."
What About News-Related Tweets?
Twitter also did not respond to a question about whether news organizations — whose links make up a large part of the content on the social media network — will also get to play the Promoted Tweet game. It almost certainly will prompt discussion on the part of journalists who wonder how much more marketing/promotion they will need to do in the digital age to drive traffic to their online divisions. A Google search for "news" right now turns up cnn.com, msnbc.com and foxnews.com in the top three results. Google News is No. 4. On the right-hand side of the page where sponsored links are listed, your local news provider with the deepest online advertising pockets usually shows up first.
The @cnnbrk Twitter feed has just over 3 million followers. @nytimes boasts 2.3 million users tracking the Gray Lady's tweets.
Causey remembers the initial reports of Michael Jackson's death. "TMZ.com came out with its first, and they were retweeted and retweeted. If TMZ were to report something like that now first, and CNN were to come out a minute later and promote their tweet, that would go higher (on the search page). It's that battle of breaking news of Twitter. The next thing we'll see is the news portion. That's how a lot of us use Twitter. Who's going to win the breaking news? How will [news organizations] use promoted tweets for us?"
It's possible that questions like that await company executives as they sell Twitter's initial venture into advertising this week. Whatever the answers are, the move is long overdue, said Safko, and should reward investor patience in a company that's been long on hype and mainstream media attention but short on revenue possibilities.
"It's all in the execution," Safko told the E-Commerce Times. "As long as the ads are contextual and meaningful and not just another source of spam, I think we can all live with that. If I got a 'Promoted Tweet' occasionally, I would look at it. It's the volume they have to monitor. If I only got 3 or 4 email spam messages per day, it would never be an issue. It's about moderation. I think Biz has good business sense and is aware that just throwing ads at us would really sadden the user base and encourage competition. His 'slow and thoughtful approach to monetization' is a good approach.
"If my choices were Twitter with promotional Tweets or no Twitter at all, I vote do it," he added.