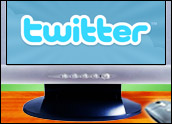 Twitter has made a number of moves in the past few days that have jangled the nerves of third-party developers who fear the micro-blogging site is about to make a big push into their territory.
For starters, Twitter has acquired Atebits, the maker of Tweetie, a Twitter client for the iPhone. Twitter also unveiled its own BlackBerry app, developed with RIM, which it referred to as the "official Twitter app" for BlackBerry.
Taken together, and considering the approach of the Twitter development conference, Chirp, developers are assuming the worst — for them, at least. Namely, that Twitter has finally embarked on a monetization strategy, and it intends to develop its own apps and ad ecosystem.
'Improving Our Product'
Twitter hurried to calm the storm, via an email from Ryan Sarver, head of the platform team.
Twitter is not looking to thrust aside the developers that helped make the company so popular, he reportedly wrote — but the company's business model is changing as it looks to expand its functionality.
"To be clear, we are going to work hard to improve our product, add new functionality, make acquisitions when it's in the best interest of users and the whole ecosystem at large," he wrote in the email that was reprinted in the San Francisco Chronicle. "Each one of those things has the potential to upset a company or developer that may have been building in that space and they then have to look for new ways to create value for users. My promise is that we will be consistent in always focusing on what's best for the user and the ecosystem as a whole and we will be sincere and honest in our communication with you."
The explanation jibes with Agora Technology CEO Brad Harris' view of Twitter's development and its current predicament.
"The Twitter phenomenon was a lot bigger than it ever expected — they know they can't manage the growth as they have been doing up until now," he told the E-Commerce Times. "Right now, Twitter sits between two worlds. It hasn't been able to monetize the site in a way that is effective for them, and they know that third-party developers have been its lifeblood. Somehow they have to bring those two worlds together."
Moving Forward
For now, this hazy road map forward is all developers are likely to get, but they can take heart in the fact that Twitter is unlikely to find much value in taking over all — or even most — of its development.
"I can't see how Twitter would make money from its own apps when there are still so many good, or even good-enough apps, available to compete," Greg Sterling, principal of Sterling Market Intelligence, told the E-Commerce Times.
Clearly, though, some developers will find themselves made irrelevant. Companies that will succeed in this new chapter of Twitter are those that add value to their applications and find an underserved niche, said Gary Zukowski, the president and founder of TweetMyJOBS.
That way, "if Twitter does become a competitor to some of these businesses, it really doesn't matter so long as the API is still available to developers," Zukowski told the E-Commerce Times.
Also, Twitter doesn't seem to be going after vertical offerings, he pointed out. "They are only trying to expand their core offerings, which will support all verticals. Businesses on Twitter that focus on verticals are most likely going to be safe, and probably better off with the expanded functionality."
Developers would do better to start thinking about how to build real innovation on top of the service instead of creating functionality that is obviously missing and already on Twitter's product development road map, agreed Dan Neumann, strategist for emerging platforms at Organic.
"One area that merits further exploration is mining Twitter's data," he told the E-Commerce Times. "Brands are already looking at Twitter to gauge consumer sentiment relative to new product launches and policy changes, while researchers are using the data to predict the box office success of new movies and the share prices of publicly traded companies. These insights have real value that may very well form the basis of a profitable startup."