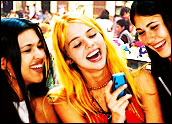 The location-based service company Glympse has its headquarters in Redmond, Wash. You certainly don't need the company's iPhone app — which lets people track their friends' locations on smartphones in real-time on maps or satellite imagery — to know that. But it may seem lately as if Glympse has been all over the media map, courtesy of its recent move to integrate its service with the world's largest social network, Facebook.
The resulting coverage has included everyone from the mainstream New York Times and local TV news outlets to the industry-centric TechCrunch. Glympse is also up for a Webby Award for Best Use of Location and GPS Technology. And all this is happening for Glympse after competing LBSes Foursquare and Gowalla had their media coming-out parties at the South by Southwest Interactive Conference in Austin in March.
It all points to a perfect storm of events and developments that signal location companies' turn in the tech industry spotlight, according to Glympse cofounder/CEO Bryan Trussel. "We're very excited about it," Trussel told the E-Commerce Times as he sat in a small conference room in Redmond, not far from his former employer, Microsoft. "We didn't know what the first reactions would be because we've been very quiet about [the Facebook integration]. But it has been universally positive, and it's something people really haven't seen on Facebook before.
---
---
"Social networks are part of this freight train that's moving as fast as it can, and up until now location has been behind that. But in the last three to four months, it's really starting to hit the mainstream phase. So now things are merging together, and we're thrilled with where we're at right now."
Where Glympse is at is in a very favorable spot in the LBS segment; its glowing reviews don't just point to the coolness factor of having a map pop up within the Facebook platform, showing moving dots representing people heading to various locations with their smartphones. The press has also focused on a Glympse user's ability to control just how long they can be tracked by others, and which people can do the tracking. So security concerns are dealt with, but another pressing question remains for Glympse, Foursquare, Gowalla and others being tracked by the tech media: Is there money to be made in location-based services?
Finding the LBS Revenue
The business uses for consumer location-based apps have to involve something more than beaming notices of free lattes or discounted items as users drive by a strip shopping center, said Dominique Bonte, analyst and practice director in the telematics and navigation division of ABI Research. "When you talk to advertising companies, they've been looking for some time at how to take advantage of mobile services. Most of them tend to agree that it's not so much the aggressive advertising or marketing in terms of display advertising or coupons and discounts," Bonte told the E-Commerce Times. "It will probably be more what they call 'relationship-building,' loyalty and brand building. Those are softer aspects of advertising that will inform a customer about new products and services, or will support [customers] in other ways."
Most business models in the location industry include enterprise services such as fleet management or workforce tracking, or public service-oriented functions such as keeping tabs on kids — the "safety and security sphere," as Bonte calls it. In the meantime, the VC-funded location companies could find themselves tinkering with their technologies and building their customer bases to a point where they will become attractive acquisition targets by handset makers, carriers or larger Web companies.
Might those companies include social networks like Facebook? Perhaps, but privacy continues to be the albatross around Facebook's neck, as seen by some reaction to the company's new Open Graph platform. "They've been very apprehensive about adding locations," Bonte said. The privacy issues related to location are 10 times bigger than the privacy issues surrounding where you live or what your age is. If you can see every moment of where everybody is, you can imagine the privacy reach with LBSes."
Trussel understands that privacy and security concerns can be the potential roadblock looming between Glympse and other like-minded companies and their ultimate business goals. "What we set out to do is to ensure two things — we have to be super-simple, and we have to be super-safe for our users. Our approach is that you only share your location with exactly who you choose and for exactly how long, and I think that's worked out well for us. The approach in the industry is to make sure people know when they're sharing their location and when they can turn it on and off. Some may have more overhead involved with that — you have to remember those things — but in general people I think have been fairly responsible."
Other Potential Uses
One of the traditional companies making the annual trek to Austin and the SXSW Interactive Conference was General Motors, which is partnering with Gowalla to see how the social networking aspects of location-based services can be incorporated into Chevrolet models. Christopher Barger, GM's global social media manager, exhibits a refreshing open-mindedness regarding this — rather than impose GM's vision on a small start-up, he's going into the relationship with eyes wide open.
"We have a lot to learn from these guys," Barger told the E-Commerce Times. "We're just starting to explore and pick up things based on this experimentation. What Gowalla does really well is incorporate the network into the location-aware services. We've got all this location-aware stuff already in our cars with OnStar, but we don't have a way yet to incorporate the network. So you might potentially see future interaction with OnStar."
Just like those who would toss virtual coupons and discounts at LBS users and call themselves forward-thinking, Barger doesn't believe the more trivial aspects of these services would serve either party well in the relationshiop. "If it's just about putting up Chevy badges that people can collect when they check in, then I think it's a waste of time for everybody involved."
It will take more experimentation on behalf of larger companies partnering with the smaller LBSes before someone can find a long-term revenue stream, Barger said. Trussel agreed, but added the car-based examples already provided by OnStar and other onboard navigation aids prove that there is a market there. In the short-term, location-sensitive advertising and perhaps targeted advertising — in addition to the fleet management scenarios — will have to carry the day for companies like Glympse.
"We've rolled out advertising with our latest release, and we've got partnerships involved with licensing our technology and some integration that we're not talking about yet," Trussel said. "I'm more optimistic now then I've ever been for the right companies to come along and monetize this thing."